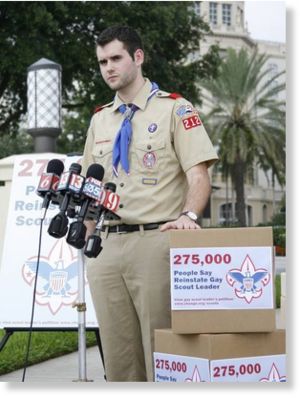 Local troops could decide for themselves whether to change their membership policy or continue to exclude gays
As early as next week, the Boy Scouts of America may announce it will allow gay Scouts and troop leaders, a spokesman for the group has told
USA TODAY
.
If this policy shift is approved by the national board meeting next week, it will be a sharp reversal of the Scouts' decades' old national policy banning homosexuals.
"The policy change under discussion would allow the religious, civic or educational organizations that oversee and deliver Scouting to determine how to address this issue," BSA spokesman Deron Smith said in a statement to
USA TODAY
.
Only seven months ago, the Boy Scouts affirmed its ban on gays after a nearly two-year examination of the issue by a committee of volunteers convened by national leaders of the Boy Scouts of America, known as the BSA. However, local chapters and some members of the national board -- corporate CEO Randall Stephenson of AT&T and James Turley of Ernst & Young -- called for a reconsideration.
The proposed new policy would leave decisions on membership and leadership up to the BSA' s 290 local governing councils and 116,000 sponsoring religious and civic groups.
"Scouting has always been in an ongoing dialogue with the Scouting family to determine what is in the best interest of the organization and the young people we serve," Smith told
USA TODAY
.
"The Boy Scouts would not, under any circumstances, dictate a position to units, members or parents. Under this proposed policy, the BSA would not require any chartered organization to act in ways inconsistent with that organization's mission, principles or religious beliefs," he said.
While some cheered the announcement, others said it would ruin Scouting.
The announcement comes after a campaign to change the policy that lasted more than a year and garnered more than 1.2 million online signatures at Chang.org, according to the Gay and Lesbian Alliance Against Defamation (GLAAD), an advocacy group.
GLAAD spokesman Rich Ferraro told
USA TODAY
the Boy Scouts were making an important "first step" that he hopes will lead to ending a national ban and allowing gays to participate in an important national cultural institution.
"The Girl Scouts, 4H Clubs and the U.S. military are fully inclusive, and that's what we need from the Boy Scouts of America," Ferraro said. "Until then there will be young people out there who are harmed by this."
"This would be an incredible step forward in the right direction," said Zach Wahls, Eagle Scout and founder of Scouts for Equality. Wahls said his group will work with BSA councils and chartering organizations across the country to end exclusion of gays.
Albert Mohler, president of Southern Baptist Theological Seminary in Louisville, said a policy change would be "nothing less than disastrous for the Boy Scouts of America."
The Southern Baptist Convention views homosexuality as sinful based on scripture and not acceptable as normal behavior, Mohler said. Ending a national policy on gays would raise a question in the mind of every Scout's parent and require families to research the policy of each Scout troop and sponsoring organization before joining, he said.
"This is going to raise a fundamental question for the Southern Baptist Convention at national level and in the churches" about whether to reconsider a decades-old relationship with the Boy Scouts, Mohler said.
While that decision would be up to individual Southern Baptist churches, Mohler said: "I'm quite assured that those churches will be reconsidering that relationship if this policy goes into effect."
The potential policy shift raises a question about another group shut out of scouting -- atheists who decline to say the Boy Scout Oath because it begins: "On my honor I will do my best to do my duty to God and my country and to obey the Scout Law..."
David Silverman, president of American Atheists, said Monday, "If they are considering lifting the ban on gays, that's a good thing, that's progress. If they lift that bigotry from their requirements, I would hope they remove the rest of the bigotry and admit atheists as well.
Refusing to admit atheists who decline the oath, Silverman says, "tells boys that atheists are immoral. If local groups want to behave in an ethical way, I'm confident they will make Boy Scouts about scouting, not about bigotry."
The Girl Scout Promise is similar in committing the girl to "serve God and my country...."
But the official site also stipulates: "According to the Girl Scout Constitution, "The motivating force in Girl Scouting is spiritual. The ways in which members identify and fulfill their spiritual beliefs are personal and private."
The Girl Scouts USA policy is that religious expression is diverse and "the decision to say grace, blessing or invocation is made locally at the troop or group level and should be sensitive to the spiritual beliefs of the participants."
According to David Gibson of Religion News Service, the U.S. Conference of Catholic Bishops has been reviewing church ties to the GS USA for two years. Despite consistent denial by Girl Scout officials, there are persistent reports on the Internet and among some social conservatives that the organization has ties to Planned Parenthood or endorses material on sexuality that the Church would not approve.