Almost two years after the awful nuclear disaster occurred, a fish caught near Fukushima on Friday January 18th had a record-breaking level of radioactive contamination over
2500x the legal limit.
TEPCO measured 'Mike the Murasoi'
at 254,000 becquerels per kilogram (with the limit for edible seafood at 100 becquerels).
As
Le Monde reports
, the previous record (caught on August 21st 2012) was a mere 25,800 becquerels/kg. As further precautions,
TEPCO is installing new nets 20km around the Fukushima Daichi site
to avoid highly contaminated fish gettig too far and being consumed by other species. While Mike's family are no doubt distraught (at him being caught
and
being so radioactive), it appears (somewhat disappointingly) that there is no apparent third eye, lazer fins, legs, or other 'expected' 'blinky' malformations.
Mike - the slightly crispy looking Marusoi...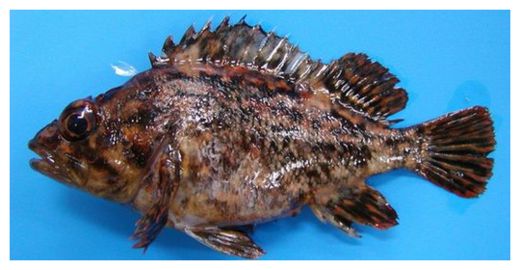 Doesn't look anything like Blinky...