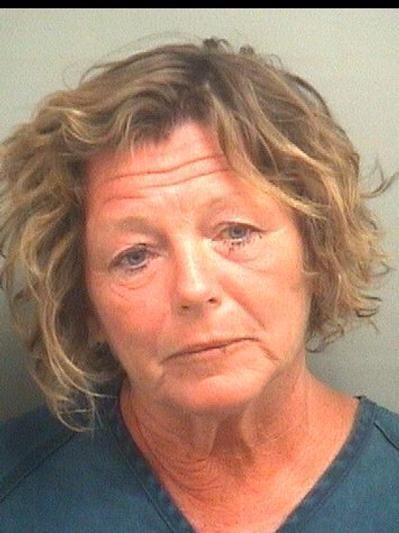 A Palm Beach County school teacher who was charged with DUI after a hit-and-run collision offered oral sex to a police officer and invited him to grope her in exchange for letting her go, police said.
Mary Patricia Maloney, a 7th grade science teacher at Palm Springs Middle School, was arrested Sunday by Greenacres police after a report of a hit-and-run at South Jog Road and Purdy Lane.
"How much do I need to pay you to just let me go?" Maloney, 53, allegedly said to an officer driving her to the police station, according to the arrest report. "Don't you understand I am a school teacher?"
Maloney of Lake Worth, then allegedly offered to provide oral sex to the officer. She also invited the officer to grope her breasts, according to the arrest report.
Maloney has a prior DUI conviction from 2009, according to the arrest report. Police said she was driving while knowing her license was under suspension.
Nat Harrington, a spokesman for the School District of Palm Beach County, said Maloney could lose her job.
"These are very serious charges and could subject the employee to discipline of suspension or termination," Harrington said.
But before any decision is made, Maloney will be referred to the school district's Employee Assistance Program, Harrington said. The program offers counseling to employees, according to the school district's web site.
"[B]ased on the outcome of that referral, we will make a decision as to her status pending the outcome of the case," Harrington said.
Police said Maloney's white Dodge van collided with a West Palm Beach man's white Chevy pick-up truck at about 8:35 p.m. on Sunday.
A witness who saw the crash followed Maloney's van until she stopped and parked in the 6300 block of Forest Hill Boulevard, police said.
Police arrived and Maloney was taken to a patrol car for questioning.
"I noticed that her eyes were bloodshot, glassy and only partially open," a Greenacres police officer wrote in the arrest report.
Inside the van, officers saw that both airbags had been deployed. An empty jug of Carlo Rossi wine was behind the driver's seat.
Maloney allegedly yelled and made "random vulgar statements. After being asked by police to undergo sobriety tests, Maloney began to cry and told police she wouldn't cooperate in the investigation without a lawyer.
Maloney has four arrests since 2009 including Sunday's incident, according to Florida Department of Law Enforcement records. In May 2009, she was charged with a misdemeanor DUI and pleaded guilty. She was charged with battery in August 2010 but prosecutors dropped that case. In October 2010, Maloney was charged with probation violation.
Maloney is facing six charges including hit and run, knowingly driving with a suspended or revoked license, and two counts of bribery.