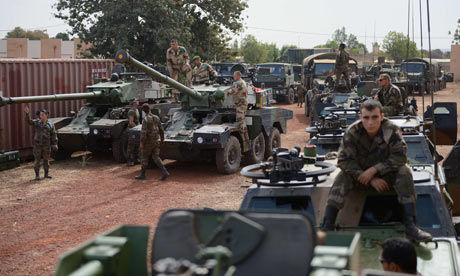 Air raids continue 'day and night' in battle with insurgents, but French president dismisses suggestion of colonialism.
France will only end its intervention in Mali when political stability and an election process have been restored to the chaotic west African country and Islamist groups have been wiped out, the French president said on Tuesday, raising the prospect of a drawn-out engagement on hostile desert terrain.
The French defence minister, Jean-Yves Le Drian, said a "relentless" fight with Islamists was continuing on Tuesday night and France would stay "as long as necessary".
Mali is in political disarray after a coup last year and the fall of the vast northern desert to Islamist groups who operate a drug trafficking and kidnap economy in several Sahel countries.
French air raids continued "day and night" in the vast area seized by the Islamist alliance, which combines al-Qaida's north African wing, AQIM, with Mali's home-grown Movement for Oneness and Jihad in west Africa (Mojwa) and Ansar Dine rebel groups.
Le Drian described an implacable fight against Islamists who were "agile, determined, well-equipped, well-trained" and could easily hide in the desert.
He said that since Saturday, round-the-clock French air raids had been aimed at stopping the Islamist advance southwards towards the capital, Bamako, and destroying training camps, command structures and any rear bases in the north.
Airstrikes were continuing across a swath of territory east and west of the Niger river. But he said that in the town of Diabaly, which had seen an air offensive throughout Monday night, Islamists were still "very present" and threatened the south of the country. Diabaly is 220 miles (350km) from Bamako.
Le Drian said the town of Konna, which fell to the Islamists last Thursday triggering the sudden French intervention on Friday, had still not been retaken by the Malian army. The Red Cross said the army had sustained casualties.
France is to boost the 1,700 of its troops engaged in the mission, including 800 soldiers already on the ground, to 2,500.
West African armies are scrambling to join the operation, brought forward by France's bombing campaign to stop the rebel advance.
On a visit to United Arab Emirates, President François Hollande said France had three aims: to stop the rebel advances, to secure Bamako and to help the Mali government regain control of the whole country. He said France would take a lesser role "as soon as there is an African force, in coming days or weeks", adding that France did not intend to stay.
In response to questions about a return to France's controversial and shadowy role pulling strings in its former colonies, Hollande said the Mali intervention, in an international legal framework with UN backing, had nothing to do with the practices of "a bygone era". He said: "France should only intervene in Africa in exceptional circumstances and for a limited time. That's what we will do."
But he added that France's role was to ensure that "when we end our intervention, Mali is safe, has legitimate authorities, an electoral process and there are no more terrorists threatening its territory".
Asked what France intended to do with the Islamists, Hollande said: "Destroy them. Take them captive, if possible."
West African defence chiefs met in Bamako to approve plans to speed up the deployment of 3,300 regional troops, foreseen in a UN-backed intervention plan to be led by Africans. Troops from the Ecowas grouping of west African states are expected to be deployed within a week to bolster the Malian army.
Nigeria, which is due to lead the African mission, pledged to deploy soldiers within 24 hours, but with its own army under pressure on several fronts and the sudden Mali intervention leaving little time for planing, Nigeria had already cautioned that even if some troops arrive in Mali swiftly, their training and equipping will take more time.
The UN refugee agency said the clashes in northern Mali were adding to the already large numbers of displaced people.
The agency spokesman, Adrian Edwards, said 1,230 refugees from Mali had arrived in Niger, Burkina Faso and Mauritania as a result of recent clashes between the French-backed Malian army and the rebel groups. More than 144,000 fled to neighbouring countries in 2012, and nearly 200,000 in northern Mali were displaced within the country.
Earlier on Tuesday the French foreign minister Laurent Fabius said the current level of the French involvement in Mali would go on for "a matter of weeks".
But a Mojwa commander taunted the French, telling Associated Press: "I would advise France not to sing their victory song too quickly. They managed to leave Afghanistan. They will never leave Mali."
Oumar Ould Hamaha said: "It's to our advantage that they send in French troops on foot. We are waiting for them. And what they should know is that every French soldier that comes into our territory should make sure to prepare his will beforehand, because he will not leave alive."
In Lisbon, the US defence secretary, Leon Panetta, said no American troops would be put on the ground in Mali. The US is providing intelligence-gathering assistance to the French, and officials would not rule out having American aircraft land there to provide airlift and logistical support. Panetta said the US was still working through the details of assistance it would provide France.
A meeting of EU foreign ministers on Thursday is expected to define what kind of support will be provided to the African mission in Mali.
The Mali government contradicted other reports that the Islamists who seized control of Diabaly had entered the country from Mauritania. "The people in Diabaly are bandits who fled there from the north," Manga Dembele, the minister of communication, told the Guardian at the government headquarters in Bamako. "They have come to seek refuge in the town and they are hiding in the population."
But relations with Mauritania to Mali's west and Algeria to the north have been fraught in recent months, with accusations that both countries have harboured Islamists who crossed over porous desert borders to stock up on supplies.
"We are not worried that the Islamists will arrive in Bamako," said Dembele.
Responding to questions about the apparent lack of security in the capital where government offices and ministries have little security and are accessible to members of the public. Dembele said the situation in the city was under control.
Dembele sought to calm increasing anxiety in Bamako about the existence of Islamist "sleeper cells", which it is feared could launch an attack on the city in response to the mounting campaign against them in the north.