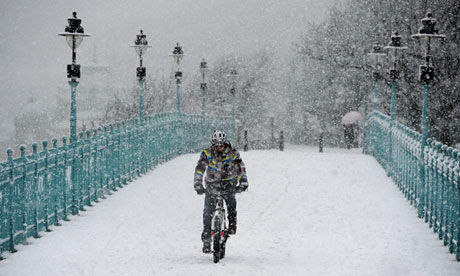 Local authorities urge people to look out for vulnerable neighbours as up to 17cm of snow falls overnight
The UK's first major snow of the winter has given way to colder temperatures as the likelihood of a month of chillier weather increases.
Snow will continue to prowl around for at least a week but in relatively light amounts and the Met Office warns in its longest-term forecast - to Valentine's Eve - that "the frequency of snow events through this period may be more than experienced so far this winter".
Local authorities and care agencies have renewed calls for people to keep an eye out for vulnerable neighbours, especially at a time when austerity is increasing difficulties with fuel and food bills. The Local Government Association's volunteer army of "neighbourhood workers", such as milk and paper deliverers, is already informally in action.
Bright sunny conditions will relieve the worst of the short-term weather, which appears on the Met Office map as a sandwich with large slices of yellow "be alert" warnings down both east and west coastlines and a central filling of milder conditions. The heaviest overnight snow proved quite spectacular by English standards in parts of Norfolk, which saw 17cm (7in) fall, but 5cm (2in) was seldom exceeded anywhere else.
In Norfolk, more than 40 schools closed on Tuesday after the snow overnight, and a woman was taken to hospital after a six-vehicle pile-up on the A11 at Larling near Thetford. The county ambulance service said it had dealt with five other accidents and warned that temperatures were expected to fall sharply later and overnight.
Police in Kent fear that heavy seas along the promenade at Herne Bay may have claimed the life of 47-year-old Robert Manning, who has not been seen since setting out for his daily walk from a nearby care home, where he was living because of mental health issues. He was last seen at 4pm on Monday. Staff at the home reported him missing seven hours later.
He is white, 6ft tall and stocky with blue eyes and balding, with grey hair. Kent police said: "Those who care for Robert are concerned for his welfare due to the adverse weather conditions and rough seas."
Supermarkets have reported a rise in sales of comfort food and winter driving equipment as well as staples such as bread and milk. Morrisons said sales of hot drink flasks saw a sixfold increase over the weekend, longlife milk was up by a quarter, stewing beef by 22% and bread 15%.
The company has also done one bit of stockpiling itself, building up 2,000 tonnes of grit to spread at its 485 stores and distribution centres for its delivery lorry fleet.
Temperatures in East Anglia reinforced observations about there being nothing between the Urals and such bone-chilling places as Cambridge, and lows of -3C (8.6F) were recorded at Bainbridge, the home of the Yorkshire Dales national park head office, and Eskdalemuir in southern Scotland.
Nick Prebble, a forecaster with MeteoGroup, said: "There will be sub-zero temperatures across much of the UK over the next few nights. South-west England will be a bit milder, but otherwise it will be cold. We are going to see wintry showers making landfall off the North Sea, so bordering counties could see another centimetre or two of snow where it does fall. But elsewhere it should be fairly dry."
Temperatures in London are forecast to rise to 3C (37.4F) during the day, and in Cornwall to 8C (46.4F), but may fall to around -8C (17.6F) overnight, with the possibility of more light snow in all parts of the UK.
In spite of the relative mildness of Monday's first bands of snow, the AA estimated that it helped more than 16,000 breakdowns, compared with around 10,500 for an average Monday at this time of year. It repeated warnings to drivers to go prepared for winter conditions, and the Highways Agency emphasised the dangers of ice on roads.
Steve Crosthwaite, the head of the National Traffic Operations Centre, in Birmingham, which is supervising more than 500 gritters and other specialist vehicles, said: "If conditions are poor, and journeys are not essential, we advise drivers to think about delaying until conditions improve and allowing our winter fleet the chance to treat the roads."
In Argyll and Bute, two walkers rescued an otter cub whose holt in Taynuilt forest was flooded out by heavy rain and thawing snow. The cub, nicknamed Cally, was found inert, but revived with glucose and is now recovering well at the Scottish Society for the Prevention of Cruelty to Animals' centre at Fishcross in Clackmannanshire.