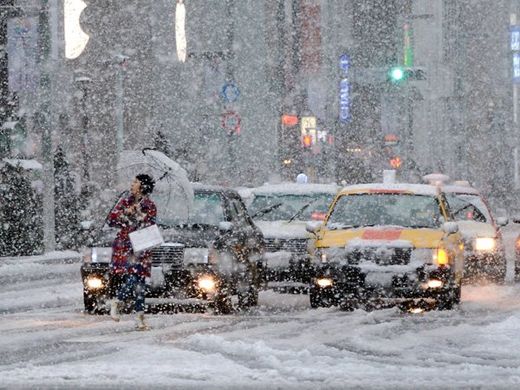 The heaviest snowstorm in seven years struck Tokyo Monday, causing thousands of car accidents and disrupting train travel just as the nation celebrated a unique national holiday.
Coming of Age Day, held the second Monday of every January, celebrates those who have turned or are about to turn 20 years old. Ceremonies and parties are held in communities across Japan, and the newly-minted adults often wear traditional kimono for the occasion.
But with wind-driven snow flying in the Japanese capital Monday, getting around proved difficult. Roads were clogged with slush, and the country's extensive rail network experienced delays. The snow was the first of this winter for Tokyo.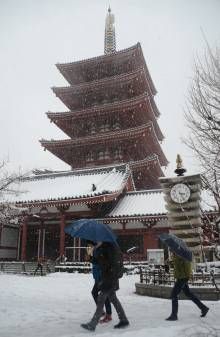 Strong winds accompanied the wet, gloppy snow. Gusts to 53 miles per hour at Haneda Airport in Tokyo led to flight delays and cancellations.
Tokyo's Narita International Airport said 3,400 travelers spent the night in the terminal after 71 flights were cancelled. Operations returned to normal Tuesday except for a few delays, according to the Associated Press.
One man died due to a motorcycle accident in Ibaraki Prefecture and another died while clearing snow in Nagano Prefecture. In addition, 1,569 people were injured in car accidents and falls on slick pavement, according to Japanese broadcaster NHK.
The Japan Meteorological Agency reported 8 centimeters (3.1 inches) of snow in central Tokyo. The Pacific Coast city, whose climate resembles that of the southeastern U.S., averages about four inches of snow per year.
According to Fuji TV, it was central Tokyo's heaviest snowfall in seven years. The nearby port city of Yokohama received 5 inches of snow, its largest amount in 12 years, the Japanese network reported.
Other parts of Japan received much larger totals, including 8 inches in Sendai in northern Japan, and 16 inches in the mountains of Yamanashi Prefecture, west of Tokyo.
In contrast to Tokyo, much of northern Japan has experienced persistent cold weather in recent weeks, and the typical sea-effect snows on the opposite (Sea of Japan) side of the country have left over eight feet of snow on the ground in parts of the interior mountains, which is not unusual for mid-January.
Meteorological "Bomb"
The storm responsible for Tokyo's snow has since moved east and out to sea, but has strengthened explosively over the waters of the North Pacific. Meteorologists at NOAA's Ocean Prediction Center warned of a "significant and extremely dangerous" low-pressure system with the potential for a large area of hurricane-force winds over the open sea.
NOAA said its WaveWatch III model projections indicated the potential for waves taller than 60 feet as the storm matures well east of Japan and well south of Alaska's Aleutian Islands.
The storm's central pressure plummeted to 932 millibars (27.52 inches of Mercury) by early Tuesday, a drop of 33 millibars in just 18 hours, easily meeting the criteria for a "meteorological bomb," so called when a storm experiences a rapid drop in central pressure, usually 24 millibars or more in 24 hours.
By comparison, Superstorm Sandy's minimum central pressure went no lower than 940 millibars, though it was much closer to land when that occurred.
Meteorologists follow a storm's central pressure with great interest because a storm's wind energy is strongly related to its central pressure.