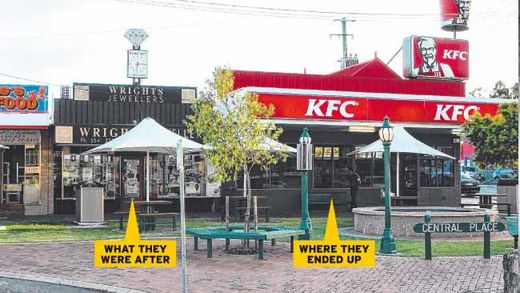 Two would-be jewel thieves found fried chicken instead of fine jewellery when they burrowed through a wall into the wrong store at Beaudesert.
The pair, from Woodridge, broke into a toilet block at the rear of the connected shops and used an iron bar to hack into a fibro wall.
They expected to arrive in Wrights Jewellers, but instead landed in the local KFC, where they surprised junior staff.
Undeterred, the pair staged an impromptu hold-up and escaped with $2600.
Peter Welsh, 32, and Dwayne Doolan, 31, were arrested and charged with the New Year's Eve robbery on Wednesday after a police raid on Welsh's Woodridge home.
The Southport Magistrates Court was yesterday told the toilet block tunnel marked the pair's third unsuccessful attempt to rob the independent jewellery store that day.
Police prosecutor Sergeant Damian Summerfield said they began throwing spark plugs at the store, on the corner of Brisbane and William streets, at 7.35am in an attempt to smash the front window.
When "plan A" failed, they allegedly tried to break in through the rear doors, but instead found themselves in the neighbouring Animal Welfare League Opportunity Shop.
Sgt Summerfield said the men stole a charity box from the front counter containing $50, before trying again to break into the jewellery store.
Police allege the men broke into a general-use toilet block attached to the back of the group of shops and hacked a hole in the wall, which they crawled through.
Once inside, they allegedly threatened staff with the bar and demanded cash.
"One female staffer opened the safe (for them) and they grabbed lots of cash," Sgt Summerfield said.
He said Welsh made "full and frank" admissions when questioned by police.
Welsh is charged with armed robbery, stealing, burglary and attempted burglary.
Doolan is charged with robbery and stealing.
Legal Aid duty lawyer Vered Turner sought bail for Welsh, arguing he had not been in trouble with the law since serving time in a NSW jail in 2009 and had lived in Queensland for two years with his de facto wife and their seven-year-old daughter.
"He realises imprisonment is inevitable as a result of his offending but he should be afforded the opportunity to remain in the community until being sentenced by the District Court," she said.
Magistrate Michael O'Driscoll refused Welsh bail, but police did not oppose bail for Doolan.
Both men will return to court on March 5.