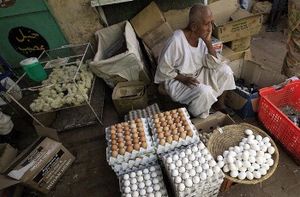 The prices of basic food commodities have risen by more than 4% recently coinciding with a decision taken by the Sudanese president Omer Hassan al-Bashir to raise the minimum wage.
The new minimum monthly wage, effective from this month, is 425 SDG ($97 based on official exchange rate) compared to the old minimum wage of 165 SDG ($38).
The loss of oil wealth now contained in the independent state of South Sudan has sharply cut Sudan's revenues and exports while also contributing to the drying up of the hard currency inflows.
The Sudanese pound is now trading at 7 SDG to the dollar on the black market which sharply contrasts the official exchange rate of 4.4. Analysts say the sinking value of the Sudanese pound means the country now pays a hefty amount more to import food.
In recent days the price of an egg basket (24 eggs) went up from 16 SDG to 22 SDG, 1kg of lentils increased to 10 SDG from 7 SDG while meat price reached 50 SDG compared to 44 SDG last weekend.
Fast food sandwiches now range between 5 SDG to 16 SDG.
Ahmed Al-Hassan who runs a restaurant in central Khartoum said that the "significant" jump in food prices adversely affected sales as he was forced to pass on a small part of the increase to customers.
He acknowledged that sales have plunged by 50% following the hike in prices he applied.
Al-Hassan, who was sitting in an almost empty restaurant, complained by saying "if the situation continues this way then I will have to close down this restaurant as I cannot bear the loss".
According to Sudan's Central Bureau of Statistics (CBoS) report last month, the annual inflation rate reached 46.5% in November compared to 45.3% last October.
Prices rose year-over-year by 83.8% for meat, 45.4% for sugar, 40.2% for vegetables and 70.2% for transport.
The 2013 budget approved last month targets an inflation rate of 22% and an exchange rate of 4.42 SDG to the dollar. However many analysts expressed skepticism that these goals could be attained.
Ibrahim Ghandour who heads the country's labor union described the budget figures as unrealistic.