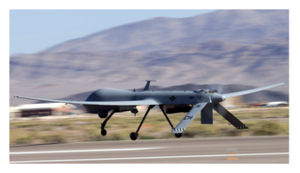 Military drones used to track terrorists or insurgents in Afghanistan have also been flying across the U.S. homeland. Newly released documents show U.S. drone flights by the Air Force, Marine Corps and the Defense Advanced Research Projects Agency for the first time.
The Air Force has tested drones in U.S. skies ranging from hand-launched Ravens to the larger Reaper drones responsible for targeting and killing people overseas - all recorded through the Federal Aviation Administration licenses required to fly in national airspace. That information became public through a Freedom of Information Act request from the nonprofit digital rights organization
Electronic Frontier Foundation
(EFF).
"The FAA recently announced it wants to slow down drone integration into U.S. skies due to privacy concerns," the EFF said. "We are hopeful this indicates the agency is finally changing its views."
But the advocacy organization noted that the FAA documents don't show any oversight of how drone flights could affect the privacy and civil liberties of Americans.
The advocates run a U.S. drone census that aims to track drone flights made in the homeland by the U.S. military, law enforcement agencies, local police departments and universities. Part of that effort has involved requesting the FAA to release documents showing what agencies and organizations applied for licenses to fly drones in U.S. national airspace.
Drones flown by the Air Force near places such as Virginia Beach, Va., have the cameras and sensors to track moving ground targets for hours at a time. The Reaper drone capable of both spying on people and firing missiles at them has spent much of its time prowling the skies above Nevada, California and Utah.
Some Air Force operators have even practiced surveillance missions they might carry out in Afghanistan by tracking civilian cars on the highways, according to a
New York Times
report.
The Air Force proved the most accommodating by allowing the related FAA records to go public. The Marine Corps chose to redact so much material from the records that the EFF had a difficult time figuring out the Marines' drone programs.
On the civilian side, the drone records show how many U.S. law enforcement agencies want to use drones for spying on drug activities in the war on drugs. But some police departments - specifically the Orange County, Fla., sheriff's department and Mesa County, Colo., sheriff - chose to withhold some or most of the information about drone flights by claiming that public information could threaten their police work.
The FAA released the new batch of documents more than a year and a half after the EFF filed its Freedom of Information Act request, but has yet to release more than half of the available drone records. The EFF called that "unacceptable."
"Before the public can properly assess privacy issues raised by
drone flights
, it must have access to the FAA's records as a whole," the EFF said.