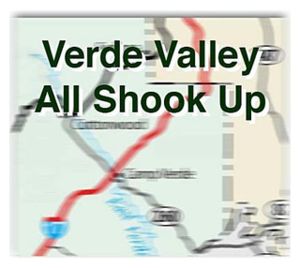 (U.S.) - Just before 5 p.m. Tuesday, a loud boom followed by a second blast that shook windows from Cornville to Jerome, rocked the Verde Valley.
By Wednesday, the noises, whatever they were, were all the buzz.
"There was a boom and I thought, thunder. But as I was looking around for clouds I heard a second one that sounded like it came from Mingus Mountain. Then I went to see if the spring on my garage door opener had broke," says Camp Verde resident John Stephens.
Kristi Gagnon, fire marshal for the Camp Verde Fire District, said she and fire Chief Clayton Young were in the administrative offices when they heard the noises. Having grown up in California, Gagnon thought it was an earthquake.
"It had that similar sound but nothing was shaking and the ground wasn't moving. It was interesting for sure," said Gagnon.
Gagnon said she did get a report from a resident living near the Camp Verde Library who said the noise actually "shook stuff off the shelf."
Their curiosity eventually drove them outside the building, believing something had hit the roof, but found nothing there.
Chief Joe Moore with the Clarkdale Fire District heard it, too, and reported that it sounded just like dynamite.
Whatever it was, it did not appear to be isolated to the Verde Valley.
Darby Martin with the Camp Verde Marshal's Office said she received a call from her son who was working for a drilling company, core drilling at the Bagdad copper mine, who reported hearing a similar noise two hours earlier.
"He said that around 3 p.m. his crew heard two loud booms. They thought there was an earthquake at the mine," she said.
Employees at the Verde Independent and Bugle's parent company's offices in Yuma reported hearing two loud booms and went outside believing a vehicle had blown a couple of tires on the roadway in front of the building.
Many who heard the noise speculated it was a sonic boom. Given the response the Verde Independent received from an inquiry made to Luke Air Force Base, that may very well be the case.
When asked to get a comment, Range Office Theresa Walker said there was no one around to comment. They were all out observing an "exercise."
Gagnon says that after giving it some thought, she had come to the conclusion this morning it was all part of the holiday season.
"My theory is that it was just Santa's sleigh scanning the area, checking for all the naughty and nice kids," she said.
It's her story, she says, and she's sticking to it.