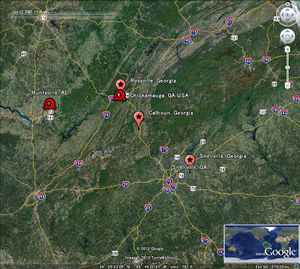 Bill Cooke of NASA confirms!
"Confirm bright event on November 30 at 03:35:50 UTC (November 29, 22:35:50 EST).Confirm slow and low event, seen in 4 cameras. Trajectory solution is as follows:
Start location: 86.267 W, 33.959 N at an altitude of 75.0 km
End location: 86.178 W, 33.757 N at an altitude of 37.5 km
Initial speed of 16.0 +/- 0.7 km/s
Decelerated to 9.2 km/s
Technically a possible meteorite dropper, but IMO not likely, as it seems to have small mass based on the meteor brightness. No terminal flare."
Regards,
Bill"
Initial Sighting Reports
29 November 2012 - Brendan, Snellville, GA 22:48 EST
4 seconds duration - Observed falling almost straight down in the western sky. White colour. 10x brighter than Venus. It appeared to be like a bright oval, wobbling as it fell.
29 November 2012 - Teresa Cronon, Calhoun, GA 22:45 EST
4 seconds duration - Facing South. It was traveling SE. Bright white w/ red fire following. Bright as the moon. It was the largest and closest meteor or fire ball that I have ever seen.