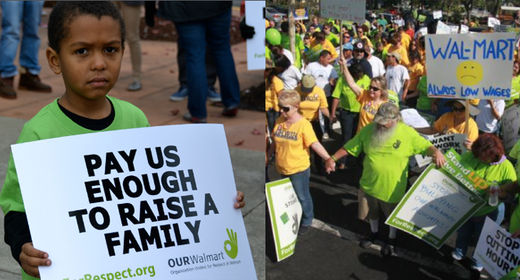 Nationwide walkout emboldens America's labor movement.
In the radical spirit of Buy Nothing Day, thousands of Walmart workers are staging a nationwide walkout on Black Friday . . .
Walmart is notorious for forcing small retailers out of business, pushing suppliers to bankruptcy, depressing labor conditions and paying employees the barest minimum wage. And Walmart is a committed union buster - when workers in the USA and Canada tried to organize, Walmart closed entire stores to avoid setting a precedent
. Now . . . finally . . . there's some blowback across the country, inspired by the workers at Walmart warehouses in southern California. "The warehouse workers did it," Walmart associate Dan Hindman explains, "if they can, we all can do it. We're protected by the law. We're doing it for our rights and to get the company to follow their own policies that they've broken."
Hindman is a college graduate who takes home $75 for a two-week pay period ever since Walmart cut his hours. "I can't afford to work at Walmart, but I have no choice," he says, "I'm fighting for a lot. This is a big deal for me...All we're asking for is respect. ... I've never been a slave, but I don't like this. It's out of control. This is about freedom, about our rights."
Just mere days before this planned nationwide walkout, Walmart executives had the gall to file a complaint with a federal agency, accusing United Food and Commercial Workers union - one of the largest labor unions in America - of unlawfully organizing picket lines, in-store "flash mobs" and other demonstrations. Walmart executives also warned employees to show up for work on Friday, or else, "there could be consequences."
But this time around Walmart's bully tactics may backfire. And as it goes for any bully, their defensive actions only reveal their core vulnerability and insecurity. With shares of the company down 6% last week, impassioned, ongoing protests by employees over the last six months, and a powerful alliance of Walmart workers forming the activist group,
OUR Walmart
, Walmart's CEO and executives are starting to loosen their ties, as fear-sweat trickles down their necks.
This Black Friday could be a turnaround moment for America's labor movement . . . emboldening them in the months ahead to pull off a flurry of feisty winter protest actions against dozens of America's most corrupt corporations.
Act in solidarity with the strikers by attending a protest this Friday, or by participating in Buy Nothing Day and hitting Wal-Mart in the bank account - where it hurts them most. Otherwise, show the strikers you care by gifting them and their families, who are at risk for losing their jobs, a gift-card for food
here.