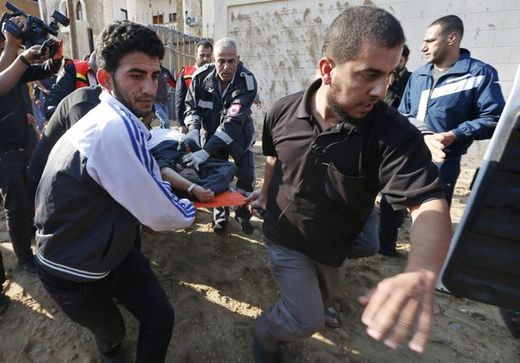 A Hamas rocket killed three Israelis north of the Gaza Strip on Thursday, drawing the first blood from Israel as the Palestinian death toll rose to 15 in a military showdown lurching closer to all-out war and an invasion of the enclave.
On the second day of an assault Israel said might last many days and culminate in a ground attack, its warplanes bombed targets in and around Gaza city, where tall buildings trembled.
Plumes of smoke and dust furled into a sky laced with the vapor trails of outgoing rockets.
The sudden conflict, launched by Israel
with the killing of Hamas's military chief, pours oil on the fire of a Middle East already ablaze with two years of revolution and an out-of-control civil war in Syria. Palestinian allies, led by Egyptian President Mohamed Mursi, denounced the Israeli offensive.
After watching powerlessly from the sidelines of the Arab Spring, Israel has been thrust to the centre of a volatile new world in which Islamist Hamas believes that Mursi and his newly dominant Muslim Brotherhood in Egypt will be its protectors.
The Palestinian Islamist group claimed it had fired a one-tonne, Iranian-made Fajr 5 rocket at Tel Aviv in what would be a major escalation, but there was no reported impact in the Israeli metropolis 50 km (30 miles) north of the enclave.
"The Israelis must realize that this aggression is unacceptable and would only lead to instability in the region and would negatively and greatly impact the security of the region," Mursi said, although there was no immediate sign of robust action by Egypt, Israel's most powerful Arab neighbor.
The new conflict will be the biggest test yet of Mursi's commitment to Egypt's 1979 peace treaty with Israel, which the West views as the bedrock of Middle East peace.
The Muslim Brotherhood, which brought Mursi to power in an election after the downfall of autocrat Hosni Mubarak, has called for a 'Day of Rage' in Arab capitals on Friday. The Brotherhood is seen as the spiritual mentors of Hamas.
Assassination
The offensive began on Wednesday when a precision Israeli airstrike assassinated Hamas military mastermind Ahmed Al-Jaabari, and Israel shelled the enclave from land, air and sea.
The 15 killed in Gaza included Jaabari and six Hamas fighters plus eight civilians, among them a pregnant woman with twins, an 11-month old boy and three infants, according to the enclave's health ministry. Medics reported at least 130 wounded.
At Jaabari's funeral on Thursday, supporters fired guns in the air celebrating news of the Israeli deaths, to chants for Jaabari of "You have won." His corpse was borne through the streets wrapped in a bloodied white sheet. But senior Hamas figures were not in evidence, wary of Israel's warning that they are now in its crosshairs.
The Israeli army said 156 targets were hit in Gaza, 126 of them rocket launchers. It said 200 rockets had struck Israel since the start of the operation, 135 of them since midnight.
Israel's Iron Dome interceptor system has so far shot down 81 rockets headed towards residential areas, the military said.
One of those that got through caught its victims before they could reach the blast shelters that are everywhere in the Negev region, prey to sporadic Palestinian rocket attacks from Gaza for the past five years.
Israeli police said the three died when a rocket hit a four-story building in the town of Kiryat Malachi, some 25 km (15 miles) north of Gaza. They were the first Israeli fatalities of the latest conflict to hit the coastal region.
Expecting days or more of fighting and almost inevitable civilian casualties, Israeli warplanes dropped leaflets in Gaza telling residents to stay away from Hamas and other militants.
The United States condemned Hamas, shunned by the West as an obstacle to peace for its refusal to renounce violence and recognize Israel.
"There is no justification for the violence that Hamas and other terrorist organizations are employing against the people of Israel," said Mark Toner, deputy State Department spokesman.
The U.N. Security Council held an emergency meeting late on Wednesday to discuss the Israeli assault. It called for a halt to the violence, but took no action.
In France, Foreign Minister Laurent Fabious said: "It would be a catastrophe if there is an escalation in the region. Israel has the right to security but it won't achieve it through violence. The Palestinians also have the right to a state."
"Gates of Hell"
Israel's sworn enemy Iran, which supports and arms Hamas, condemned the Israeli offensive as "organized terrorism". Lebanon's Iranian-backed Shi'ite militia Hezbollah, which has its own rockets aimed at the Jewish state, denounced strikes on Gaza as "criminal aggression", but held its fire.
Oil prices rose more than $1 as the crisis grew. Israeli shares and bonds fell, while Israel's currency rose off Wednesday's lows, when the shekel slid more than 1 percent to a two-month low against the dollar.
A second Gaza war has loomed on the horizon for months as waves of Palestinian rocket attacks and Israeli strikes grew increasingly intense and frequent. Prime Minister Benjamin Netanyahu, favored in polls to win a January 22 general election, said on Wednesday the Gaza operation could be stepped up.
His cabinet has granted authorization for the mobilization of military reserves if required to press the offensive, dubbed "Pillar of Defense" in English and "Pillar of Cloud" in Hebrew after the Israelites' divine sign of deliverance in Exodus.
Hamas has said the killing of its top commander In a precision, death-from-above airstrike, would "open the gates of hell" for Israel. It appealed to Egypt to halt the assault.
Israel has been anxious since Mubarak was toppled last year in the Arab Spring revolts that replaced secularist strongmen with elected Islamists in Egypt, Tunisia and Libya, and brought civil war to Israel's other big neighbor Syria.
Cairo recalled its ambassador from Israel on Wednesday. Israel's ambassador left Cairo on what was called a routine home visit and Israel said its embassy would stay open.
Gaza has an estimated 35,000 Palestinian fighters, no match for Israel's F-16 fighter-bombers, Apache helicopter gunships, Merkava tanks and other modern weapons systems in the hands of a conscript force of 175,000, with 450,000 in reserve.