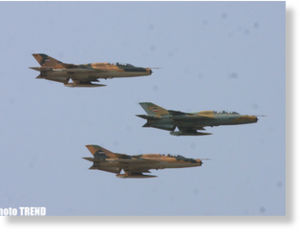 Iran launched military drills across half the country on Monday, warning it would act against aggressors less than a week after Washington accused Iranian warplanes of firing on a U.S. drone.
The maneuvers will take place this week across 850,000 square kilometers (330,000 square miles) of Iran's northeast, east, and southeast regions, Iranian media reported.
Some 8,000 elite and regular army troops will participate, backed by bombers and fighter planes, while missile, artillery and surveillance systems will be tested, various media said.
Played out against a backdrop of high tension between the United States and Iran over Tehran's nuclear program, the 'Velayat-4' maneuvers will involve the biggest air drills the country has ever held, Iran's English-language Press TV reported.
"These drills convey a message of peace and security to regional countries," Shahrokh Shahram, the spokesman for the exercises, told the broadcaster on Monday. "At the same time they send out a strong warning to those threatening Iran."
Last week, the U.S. Pentagon said Iranian planes opened fire on an unarmed U.S. drone over international waters on November 1.
Iran said it had repelled "an enemy's unmanned aircraft" violating its airspace.
Washington, the EU and other bodies have imposed sanctions on Iran's oil trade to press it to halt nuclear research the West fears is aimed at developing the capability to build a nuclear bomb. Iran denies the charge, saying its nuclear work is purely for peaceful purposes.
Both the United States and Israel have not ruled out military action against Iran, if diplomacy fails to resolve the row.
Forward Planning
Although the Iranian air drills come just days after the Pentagon's announcement, the exercises appear to have been planned well in advance.
In September Farzad Esmaili, commander of the army's air defense force, told the Iranian Students' News Agency (ISNA) that Iran was planning a large-scale air drill in coming months.
Various radar and other fixed, tactical and airborne surveillance systems would participate, Esmaili told state news agency IRNA on Thursday.
The exercise will also test bombers, refueling planes and unmanned aircraft, Esmaili said.
ISNA said on Monday that F-4, F-5, F-7, and F-14 fighters would participate.
Shahram told IRNA on Sunday the drills would also focus on improving coordination between Iran's military and the elite Islamic Revolutionary Guard Corps.
On Sunday, Revolutionary Guards commander Amir Ali Hajizadeh said Iran believed the U.S. drone was gathering intelligence on oil tankers off its shores, according to the Mehr news agency.
Mohammad Ali Jafari, commander of the Guards, said his forces had acted well in repelling the drone.
"If such intrusions take place in the future, we will protect our airspace," Jafari said on Sunday, according to Press TV.
Iranian officials have threatened to strike U.S. military bases in the region and target Israel if the country is attacked.
Iran has carried out a number of military simulations this year, including the "Great Prophet 7" missile exercises in July.
In August, Iran announced that it had tested a short-range missile with a new guidance system capable of striking land and sea targets.
Source: Reuters