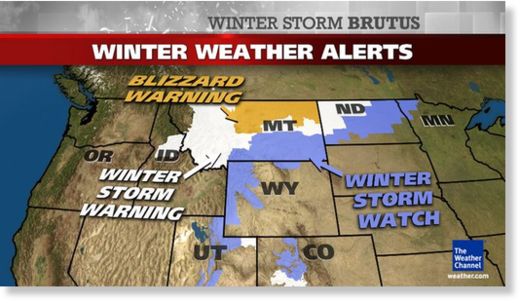 Even before
Winter Storm Athena
can finish pulling away from the Northeast, we have another significant winter storm system to deal with in the
western
half of the country: Winter Storm Brutus. This time, not only will there be a wind-snow combo on the cold side of the system, but there will be a warm sector with severe weather potential - eventually.
But first things first.
Wintry Side: Snow, Wind, Blizzard?
With strong low pressure developing over the northern Rockies and a strong high pressure zone to the north over western Canada, the stage is set for a wind-driven snow.
That snow will develop over Montana and central Idaho on Thursday. There will also be snow farther west over the Oregon Cascades and the northern Sierra Nevada in California.
The worst conditions are expected over parts of northern Montana, where blizzard warnings are in effect from Thursday morning through early Saturday morning - a long period of dangerous travel conditions. Winter storm warnings cover much of western and central Montana, including the
Interstate 15
and
Interstate 90
corridors.
By Friday, this snow expands south into the central and perhaps even southern Sierra. The mountains of Utah, and potentially western Colorado as well, should get in on the snow by the end of Friday.
Friday night into Saturday, the snow and wind will expand east into eastern Montana and North Dakota. Gusty winds will whip this snow sideways across the open prairie, leading to potential near-blizzard conditions along
Interstate 94
.
Some locations in Montana and North Dakota will likely see well over a foot of snow from this storm system.
Severe Side: Saturday Storms
As the storm system starts to emerge into the Plains and Midwestern states this weekend, it will encounter a tongue of unseasonably warm, moist air from the Gulf of Mexico reaching all the way north into the upper Mississippi Valley.
The strong cold front will push east into this unstable air and a powerful jet stream will supply plenty of energy in the upper atmosphere.
The likely result? Thunderstorms, some of which could turn severe Saturday along the Interstate 35 corridor from
Minneapolis
to
Dallas
.
It appears that the most likely mode for severe weather would be one or more squall lines of thunderstorms with damaging winds.
(
MORE:
Severe weather tracker
)
Stay tuned to The Weather Channel and weather.com for updates on this developing storm system.