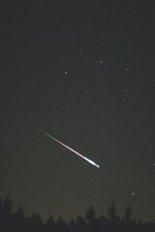 Alabama residents across the state have reported the sight of a meteor or fire ball at about 5:40 this evening.
Holly Britton, a meteorologist at the National Weather Service in Birmingham, confirmed that several people have called the station to report similar sightings. Britton said she has received calls from as far north as Winston, Ala. and as far south as Clanton. The local radar, however, did not pick up anything significant, she said.
Fox 6 reports that the Blount County Sherriff has received confirmation from the Birmingham Emergency Management Agency that the streaks of light reported were in fact caused by a meteor shower.
Earlier today, James Spann tweeted that more than 300 Alabama residents have reported the sighting on his Facebook page.
According to space.com, the sightings could be attributed to the Taurid meteors, sometimes called the "Halloween fireballs," because they appear each year between mid-October and mid-November.