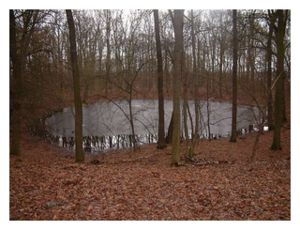 The largest meteorite to have fallen in Poland has been discovered on the outskirts of the western city of Poznan.
Professor Wojciech Stankowski, a retired lecturer at Poznan's University of Adam Mickiewicz told the PAP news agency:
"At the beginning of this month, a meteorite of about 300 kg was found," he said.
"It is by far the largest to have been found in this part of Europe up until now," he added.
The marvel from outer space was found in the Morasko Meteorite Nature Reserve, which was established in 1976 at a site where meteorites were first discovered in 1914.
The most recent discovery was made by Magdalena Skirzewska and Lukasz Smula, two geologists from the Silesian city of Opole.
Until now, the largest meteorite discovered on Polish soil - also at Morasko Meteorite Nature Reserve - weighed 164 kg, located in 2006.
The latest find is almost twice as heavy. Nevertheless, the world's largest known meteorite - the so-called Hoba of Namibia - weighs in at over 60 tonnes.