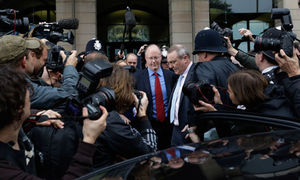 The BBC Trust chairman has defended George Entwistle's performance before parliament, saying he was unfortunate to be engulfed by a "tsunami of filth" - his description of the Jimmy Savile scandal - less than two weeks into his new role.
In a Radio 4 interview, Lord Patten also admitted that the Savile sex abuse scandal had done "terrible damage" to the corporation's reputation.
Patten's defence of the beleaguered BBC director general on Thursday came as Entwistle asked Radio 5 Live controller Adrian Van Klaveren to lead the corporation's editorial coverage of the Savile child abuse scandal, taking over responsibility from BBC News director Helen Boaden and her deputy, Steve Mitchell.
The BBC's appointment of an executive with no involvement in the dispute over why a
Newsnight
story on Savile was dropped in December 2011 to oversee its reporting of the scandal comes against a background of intense scrutiny and criticism of the corporation's handling of the affair.
Internal BBC discord over the scandal, described as a "civil war" by some papers on Thursday, has been highlighted by what ITV News reported was a "
verbal confrontation
" between Meirion Jones, a journalist who worked on the spiked
Newsnight
story, and its head of editorial policy, David Jordan, in front of colleagues late on Wednesday.
Speaking on
The World At One
, Lord Patten said: "It was a very, very difficult initial baptism of fire for a new director general of the BBC. This broke over him, this great tsunami of filth, broke over him 11 days into the job".
The peer resorted to unlikely political comparisons, saying that the great Victorian prime ministers would have found it difficult to endure the grilling from the culture, media and sports select committee on Tuesday.
"If there had been a combination of Benjamin Disraeli and Mr Gladstone they would have had a pretty tough job. I'm not criticising the select committee. I think John Whittingdale did an exemplary job in managing that as he did in the Murdoch inquiries," said Patten.
However, he conceded that he thought the Savile scandal was very damaging to the BBC - and voiced concerns for the victims of the late presenter of
Jim'll Fix It
.
Patten said: "Our main concern has to be for the victims of the abuse and worse, men as well as women, but mostly women, who have been marooned for years trying to tell their stories and not being believed, including it seems, by the BBC and secondly we have to consider the terrible damage to the reputation to the BBC which has hitherto been a national institution that has been trusted."
The peer and former Tory party chairman said it was he who insisted that a controversial blog by the Newsnight editor, Peter Rippon, had to be corrected after he was informed of inaccuracies in relation to the programme's original investigation into Savile. Patten said that he demanded changes to the blog on Sunday.
The BBC's correction altered Rippon's initial explanation about the decision to shelve the
Newsnight
Savile film and followed objections about the editor's version of events by the reporter behind the investigation, Liz MacKean, and Jones.
Patten had previously supported Rippon's explanation for dropping the programme's Savile investigation - and explained his decision to do so: "Should I have disbelieved what a senior editor said? I have at a certain point to believe. I can't disbelieve everything that is said ... my concern is to get to the bottom of what's happened."
He also rejected claims that he had acted inappropriately earlier this week when he told Maria Miller, the culture secretary, to stop interfering in the BBC Trust's management of the crisis, reminding her that the corporation was not a government body.
"I think it's important in view of what some people have said. It's quite important to remember the BBC is independent. It is answerable to licence fee payers, it is not an agent of the government. We are a national broadcaster, we are owned by the license payers," he said.
Earlier this week Miller told Patten that he needed to be aware of the deep public concern over the Savile scandal and the impact it was having on public confidence in the BBC.
Labour leader Ed Miliband on Thursday said the BBC had not handled the Savile scandal well and Entwistle needed to "get on top of what's happening". "I think his job is to show that he realises the gravity of what's happened," he added.
Miliband also called for the government to set up an independent inquiry into the Savile scandal. "What I would like to see happen is an independent inquiry, commissioned by government, covering not just the BBC but all of the institutions that frankly allowed Jimmy Savile to get away with the terrible things that he appears to have done," he said.
"I think the BBC hasn't handled this situation as well as it could have done ... It would be easier to restore confidence if the inquiry was commissioned outside and looked at all the institutions concerned."
Van Klaveren revealed that Entwistle had asked him to take over as "editorial lead" of the BBC's Savile scandal coverage in an internal email, seen by the
Guardian
.
He described his role as "supporting Helen Boaden, Steve Mitchell and the whole [BBC News management] team through what is likely to be an exceptionally demanding period".
Boaden, Mitchell and Entwistle face questions about how much they knew about the spiked Newsnight Savile story in late 2011, with claims it was ditched following pressure from senior executives. The BBC has repeatedly denied this, saying Rippon alone took the decision not the broadcast the report in early December 2011.
The former head of Sky News, Nick Pollard, is heading an inquiry into what happened with the
Newsnight
Savile story, which is expected to be completed within six weeks.
Salford-based Van Klaveren said his new job would last until Christmas, with Jonathan Wall taking over as acting Radio 5 Live editor for that period.
Wednesday's confrontation between Jordan and Jones took place at Broadcasting House in central London after the former had appeared on BBC Radio 4's
The Media Show
, broadcast at 4.30pm.
A BBC spokesman told ITV News there was a brief discussion about a "single isolated incident". Then there was a "full and frank exchange of views - nothing more".
It emerged on Thursday that Jones, the producer of the ditched Newsnight Savile investigation, initially offered the story to both the BBC2 programme and BBC1's
Panorama
on the same day in late October 2011, according to Kevin Marsh, editor of the BBC College of Journalism and former Today editor.
The BBC told Marsh that in a short, five- or six-line email to the
Panorama
editor Tom Giles on 31 October 2011 - two days after Jimmy Savile had died - Jones wrote that he believed he could gather evidence of Savile's abuse at the Duncroft approved school where his aunt had been headmistress.