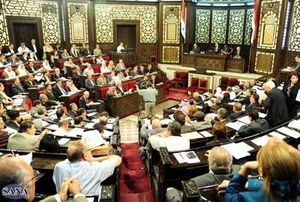 During a session on Sunday chaired by Speaker Mohammad Jihad al-Lahham, the People's Assembly passed a bill on the law of biosecurity of genetically-modified life forms and their products.
The law aims to guarantee the health of humans, animals, plants and protect the environment by setting guidelines for the import, export, transportation, production, circulation and use of genetically-modified life forms and their products, in addition to setting a framework for research and development in genetic engineering.
The law also seeks to keep up with advances in genetic engineering, particularly in the field of agriculture such as the production of high-yield crops or ones that can survive in soils with high salinity, in addition to monitoring the use of genetic technology according to the standards and regulations of biosecurity.
Agriculture Minister Sobhi al-Abdullah pointed out that the Establishment for the Procurement of Agricultural Production Requirement, an affiliate of the Agricultural Scientific Research Agency, is currently doing work in the field of modern biotechnology to help develop the agricultural sector.
The Assembly referred a number of legislative decrees and bills to the appropriate committees for processing and study, including a bill on ratifying the cooperation agreement signed by Syria and the International Center for Geopolitical Analysis and Commercial Cooperation in Moscow, and a bill on exempting people with overdue electricity bills from interests and fines.
The Assembly also referred members' written questions to the appropriate authorities, with the questions dealing with various issues including educational hospitals, postponing the debts of what farmers to the Agricultural Banks, reinstating workers who were fired or who quit their jobs and were not convicted of anything, amending the basic workers law.
The session was adjourned until 12 PM on Monday.