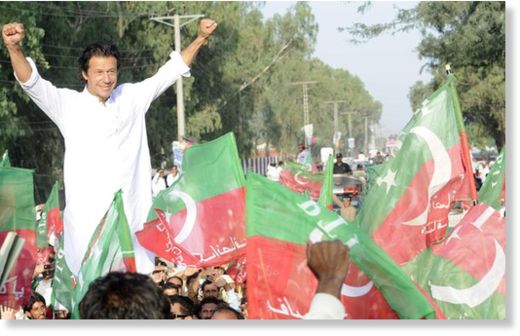 Dozens of Western peace activists, including 32 Americans, participated in a convoy in Pakistan over the weekend to protest deadly American drone strikes in the tribal belt between Pakistan and Afghanistan.
The motorcade was turned away Sunday from entering South Waziristan and reaching the town of Kotkai, the hometown of the founder of the Pakistani Taliban. The Pakistani government, as my colleague Salman Masood
reported
, had been expected to block the group.
The activists, most of them from the group Codepink, object to the civilian deaths that occur in the aerial strikes against Taliban fighters and other militants. (
Rendezvous
recently explored the controversy over drone warfare in a piece,
"Are Drone Strikes Worth the Costs?"
)
"We kill a lot of innocent people," said Medea Benjamin, a cofounder of
Codepink
and part of the delegation in Pakistan. She called the attacks "barbaric assassinations."
Speaking of the tribal areas, she
said
, "This is a culture that very much believes in revenge, and then they seek revenge by trying to kill Americans. So we are just perpetuating a cycle of violence and it's got to stop somewhere, and that's why we are putting our bodies on the line by trying to go to Waziristan to say no."
Ms. Benjamin said her group also was participating in the march to
"put significant pressure on the Obama administration
to come clean about these drone attacks, to recognize how inhumane and counterproductive they are."
Before the convoy got under way in Pakistan, members of the Codepink delegation met with
Richard E. Hoagland
, the deputy chief of mission at the U.S. Embassy in Islamabad, and he was presented with a petition calling for an end to the drone strikes.
"I wish I could tell you how enormously, enormously careful the various deciders are before there is any strike these days," Mr. Hoagland said. "I know you object to any strike at all, absolutely, I know that, but I wish I could also tell you the extreme process that is undertaken to avoid what is very sadly called 'collateral damage.' "
"I looked at the numbers before I came here today," Mr. Hoagland told the group, "and I saw a number for civilian casualties that officially - U.S. government classified information - since July 2008, it is in the two figures. I can't vouch for you that that's accurate, in any way, so I can't talk about numbers. I wanted to see what we have on the internal record, it's quite low."
The U.S. drone campaign, as Salman reported, has killed "as many as
880 civilians
, since 2004, according to the Bureau of Investigative Journalism in London, which tracks drone strikes."
The so-called "peace march" - which was actually a motorcade - was organized by Tehreek-e-Insaaf, the opposition political party led by the cricket-star-turned-politician Imran Khan. In a recent
profile
in
The New York Times Magazine
, the writer Pankaj Mishra called Mr. Khan "Pakistan's greatest sportsman and now its most popular politician since Benazir Bhutto."
"His long and uncompromising opposition to American presence in the region," the article said, "not only pleases assorted Islamic radicals; it also echoes a deep Pakistani anger about the C.I.A.'s drone attacks, whose frequency has increased under the Obama administration."
Before the march, Mr. Khan
said
of the campaign of drone strikes: "It's totally counterproductive. All it does is it helps the militants to recruit poor people. Clearly if they were succeeding, these drone attacks, we would be winning the war. But there's a stalemate."
In an
interview
on BBC Radio 4, Mr. Khan said Pakistani government officials were "completely complicit" in the U.S drone efforts, "covertly and tacitly giving their approval."
If he becomes the Pakistani leader, Mr. Khan said, he would appeal to the United States and the United Nations to halt the aerial attacks. If those appeals failed, he said, he would have the Pakistani Air Force begin shooting down the drones.
In
a scathing opinion piece
Sunday in the
Express Tribune
newspaper from Karachi, the attorney and commentator Saroop Ijaz said Mr. Khan's march was principally linked to domestic Pakistani politics. He also objected to Mr. Khan not denouncing Taliban suicide attacks that have killed numerous civilians. An excerpt from his commentary, headlined "Game of Drones":
This is not about Waziristan, this is not even about drones; this is about politics and very dangerous and cowardly politics. By indulging and showing indecent deference to these murderers, Mr. Khan is insulting thousands of those dead in suicide attacks over these years.

By all means, go and play your political games and make populist, unrealistic promises, but a line needs to be drawn when the memory of thousands of our martyrs and the survival of our society is at stake. Unless, of course, Mr. Khan can give us his solemn word that his new friends are willing to lay down their weapons and stop killing our innocent civilians.
The journalist Ahmed Wali Mujeeb recently spent nearly a month in Waziristan. A condensed excerpt from his
report
for the BBC:
The drones do not suddenly appear over the horizon, carry out the attack and leave. At any given time of the day, at least four are hovering in the sky, emitting a distinctive and menacing buzzing sound. They call them "mosquitoes."

"Anybody who has been listening to the buzzing all through the day usually can't sleep at night," says Abdul Waheed, a tribesman in North Waziristan. "It's like a blind man's stick - it can hit anybody at any time."

Taliban and local tribesmen say the drones almost always depend on a local spy who gives word when the target is there. Some say the spy leaves a chip or microchip at the site, which guides drones in for the kill. Others say special marker ink is used - rather like "X" marks the spot.

Anyone coming under suspicion is unlikely to get a hearing. The Taliban kill first and decide afterwards if the suspect was involved or not. It is better to be safe than sorry, they say.
Jennifer Gibson, an attorney with Reprieve, a legal charity in Britain that represents a number of Pakistani drone victims, was a researcher in Pakistan for the recent report,
"Living Under Drones,"
a joint project by the law schools at Stanford University and New York University.
In a
commentary
for
The Los Angeles Times
, Ms. Gibson said drones did not simply fly to a target, launch their missiles and then withdraw to a distant base. Instead, she said, drones were "a constant presence" overhead, "with as many as six hovering over villages at any one time."
"Parents are afraid to send their children to school," she wrote. "Women are afraid to meet in markets. Families are afraid to gather at funerals for people wrongly killed in earlier strikes. Drivers are afraid to deliver food from other parts of the country.
"The routines of daily life have been ripped to shreds. Indisputably innocent people cower in their homes, afraid to assemble on the streets. 'Double taps,' or secondary strikes on the same target, have stopped residents from aiding those who have been injured. A leading humanitarian agency now delays assistance by an astonishing six hours."