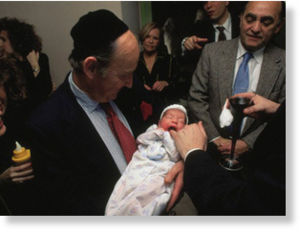 Germany's Bundestag will debate a new draft bill on male circumcisions next week. If adopted, the law will allow the ritual practice if it does not endanger the child's health and is performed "according to the standards of medical practice."
The draft bill allows circumcision to be carried out on boys up to six months old if parental consent has been given. Older children have the right to deny the procedure.
Apart from religious circumcision, the law will also allow parents to perform circumcisions for health reasons. The procedure will not require the use of anesthetic, though the qualified individual must provide "necessary and effective treatment of pain in individual cases,"
Der Spiegel
reports.
The German cabinet is expected to adopt the 26-page bill next Wednesday, after which it will be sent to the federal parliament.
"It is a clear political signal that Jews and Muslims are still welcome in Germany," the
Times of Israel
cites Dieter Graumann, the president of the Central Council of Jews in Germany, as saying.
"We are happy that Jewish commandments and Jewish life are not being pushed into illegality."
Controversy was sparked within Germany's Muslim and Jewish communities after the Cologne district
court ruled
in June that a legal guardian's authority over a child does not allow them to subject them to the procedure, which the court called minor bodily harm.
"The child's body is permanently and irreparably changed by the circumcision. This change conflicts with the child's interest of later being able to make his own decision on his religious affiliation," the judgment continued.
The ruling stemmed from the circumcision of a four-year-old Muslim boy which resulted in infection. Following the decision, criminal charges were filed against two rabbis, and some areas in Germany banning the practice out of fear doctors could also face prosecution.
It sparked allegations of anti-Semitism and religious discrimination, an especially sensitive topic for Germany given its history.
The Central Council of Muslims in Germany also described it as "blatant and inadmissible interference" in the rights of parents.
The issue was taken to the European Parliament where Jewish and Muslim religious leaders met with the European officials in Brussels to complain about what they called "an affront to their basic religious and human rights."
Despite the resulting controversy over the Cologne court ruling, many Germans supported the judgment.
A poll for Focus magazine in July found that 56 per cent of respondents thought the ruling was correct, 35 per cent were against and 10 per cent were undecided.
German Chancellor Angela
assailed the ruling
, however, saying "I do not want Germany to be the only country in the world where Jews cannot practice their rituals."
"Otherwise we will become a laughing stock," she continued.