Washington, Sept. 14 -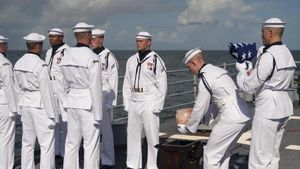 Neil Armstrong, Apollo 11 commander and the first man on the moon, was laid to rest in the Atlantic Ocean Friday in a burial at sea, NASA said.
The ceremony for Armstrong, who served in the Navy from 1949 to 1952, included a bugler and a rifle salute, after which his cremated remains were committed to the sea and an American flag was presented to his widow, Carol, the space agency reported.
The ceremony was conducted aboard the USS Philippine Sea.
The burial came one day after former Apollo astronauts, NASA Administrator Charles Bolden and other dignitaries gathered at Washington's National Cathedral to pay tribute to Armstrong, who died Aug. 25 at 82.
"Neil Armstrong left more than footprints and a flag on the moon," Bolden said at the Washington service. "He left a foundation for the future and paved the way for future American explorers to be the first to step foot on Mars or another planet."
Astronauts John Glenn, Michael Collins, Buzz Aldrin and Eugene Cernan -- the last man to walk on the moon -- attended the cathedral service.