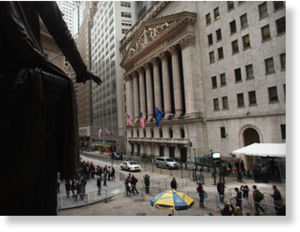 Occupy Wall Street will turn one year old in a few weeks, and organizers with the group want to make sure the movement's first anniversary won't be forgotten. To commemorate, OWS plans on staging a mass protest outside the New York Stock Exchange.
Organizers with Occupy, a protest movement formed last year to address issues of corporate greed and big businesses' relationship with politics, are asking supporters to participate in a mass sit-in outside the NYSE when their first birthday comes around next month on September 17.
"There'll be a mass of people converging on the Stock Exchange to deliver our message: that we're the 99 percent and we're not going to take it," OWS organizer Dana Balicki tells AFP.
The spokesperson with the group says that Occupy hopes to erect a massive "people's wall" outside the NYSE.
"That will be a pretty substantial act of civil disobedience," Balicki says.
Sit-ins, rallies and other forms of protest have been a hallmark of the movement since it started last autumn in New York City. From Lower Manhattan's Zuccotti Park, what was first shrugged off as a fringe attempt at activism by skeptic members of the mainstream media quickly snowballed into a substantial network of demonstrators across the US and abroad. Over the next weeks and months, offshoot OWS chapters began emerging in other major cities around the world, including Washington, DC, Los Angeles, California, Toronto, Ontario and London, UK.
For OWS' first birthday, Balick says Occupy wants anyone aligned with the group's mission to make their way to just a stone's throw from where the movement first began to materialize at the nearby Stok exchange.
"We want to bring people down to the belly of the beast," Balicki, 31, adds to AFP.
In a statement posted on the OccupyWallSt.org website, organizers of the NYSE action team say, "On September 17th, when the whole world will once again be watching, we plan to make these connections crystal clear in a disciplined and powerful civil disobedience."
"We intend to create an empowering space for participants to deliver their own messages about why they demand an end to Wall Street's devastating influence on our government, our environment, and our lives," the statement reads.
Elsewhere on the website, administrators of the OccupyWallSt.org page say that they are planning a "mass mobilization of the 99 percent" during the week of their anniversary that they hope will "fulfill the dream of economic justice for everyone!"