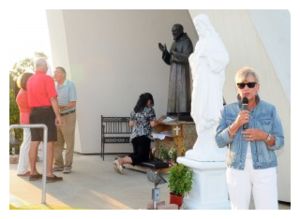 Buena Borough - Hundreds gathered Wednesday night at the roadside shrine to St. Padre Pio, as they do every week.
A brother in a long beard and a brown robe spoke about faith over the roar of passing motorcycles. Attendees bowed their heads, some rubbing rosary beads. Others waited in line to touch the glove relic.
Marie D'Andrea, who founded the shrine, travels to local hospitals with the relic, which she claims brings miracles. She received the glove, which she said was worn by the Italian monk, from a priest during a trip to Italy.
"He said, 'This glove is worth more than your life. You need to really take care of it.' So I'm on top of it," she said. "I'm never going to get another one like it. And we've had so many healings from it."
She keeps a book filled with pictures and letters of claimed healings, which she calls the miracle book.
Bonnie McCann, of Galloway Township, spoke to the group about her most recent experience with the relic. Her friend, a 47-year-old man, was diagnosed with a brain tumor. It was removed and he developed infections. McCann asked D'Andrea if they could bring the relic to the man.
"As true and loving as she is, Marie said, 'Where is he? Let's go right now,'" McCann told the group.
The man was in Philadelphia, so D'Andrea let McCann take the relic herself.
"I was so honored and I felt so blessed, because quite honestly Marie couldn't tell you my name, but she knew my face," McCann said.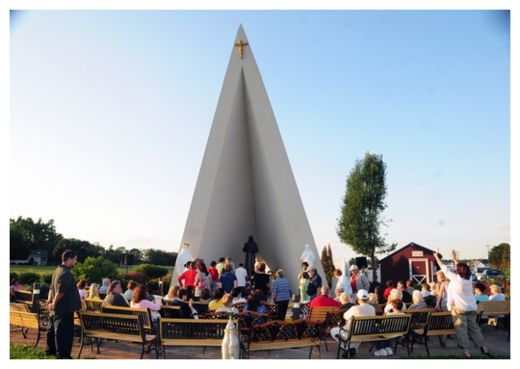 McCann said she was extremely careful the entire time the relic was in her possession.
"Beside being nerve-wracking, I felt honored," she said. "I was overwhelmed. I never let it out of my sight the entire time I was there. When we were finished, I stayed a little longer and my goal is just to return it to her."
She said her friend was moved from intensive care to a regular room.
The shrine was built in the early 2000s. D'Andrea hopes to raise another $1 million to build a church on the 10-acre lot.
According to The Press of Atlantic City archives, Pio lived at the San Giovanni Rotondo in Italy. His followers say he performed miraculous cures, could prophesy and "bilocate," or appear in two places at once. He died in 1968 and was later made a saint.
Pearl Giordano, of Vineland, regularly attends the Wednesday gatherings.
"I've been praying at the shrine for 11 years," she said. "I do a radio show on Saturdays about the miracles and about Padre Pio. I pray here on Saturdays. I come on Wednesday. It gives me a wonderful feeling to share the word of the Lord. This is a gift. These people get inspiration from coming here."