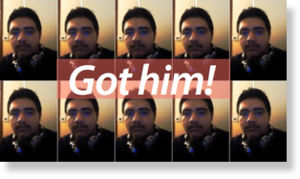 Federal authorities have arrested an accused member of the LulzSec hacking group, 20-year-old Raynaldo Rivera of Tempe, Arizona, after indicting him on charges related to a 2011 computer attack waged against Sony.
Rivera surrendered to the FBI on Tuesday after a grand jury indictment finalized on August 22 was unsealed. If convicted on the charges of conspiracy and unauthorized impairment of a protected computer, Rivera faces as much as 15 years in prison.
Using the online handles "neuron," "royal" and "wildicv," Rivera allegedly participated in a LulzSec-sponsored hack of Sony Corp's Sony Pictures' computer systems. On his personal Facebook page, Rivera describes himself as, "just your common computer geek."
By means of a SQL injection attack, the FBI says River assisted in the LulzSec operation that involved illegally accessing the personal records of 37,000 account holders, according to the company, then publishing the information.
"Why do you put such faith in a company that allows itself to become open to these simple attacks?" the group said in a press release last June. Authorities say the Sony hack cost the company upwards of $600,000.
LulzSec, short for Lulz Security, waged a 50-day-long rampage of hacks and other computer attacks last year before unexpectedly calling it quits in June. Later that fall, authorities announced that the alleged ringleader of the group, 28-year-old Hector Monsegur of New York City, aka Sabu, had been arrested in the midst of the crime spree and had been working as an FBI informant in the months since. The FBI confirmed his cooperation in September to coincide with the announcement that other alleged LulzSec members had been arrested around the globe thanks in part to Sabu agreeing to snitch to the feds in exchange for leniency in regards to his own sentencing.
"Since literally the day he was arrested, the defendant has been cooperating with the government proactively," Assistant US Attorney James Pastore told a Manhattan federal court earlier this year.
"It was because of his kids. He didn't want to go away to prison and leave them. That's how we got him," one law enforcement official told Fox News after Sabu's arrest last year was made public.
Last week, the FBI admitted that they are delaying Sabu's sentencing for an additional six months due to his ongoing assistance in the federal investigation aimed at the hackers. Monsegur pleaded guilty last August to involvement in the Sony Pictures hack, as well as attacks aimed HBGary Federal, the Public Broadcasting System, and Fox, operations that have been credited to both LulzSec and Anonymous, a larger movement spearheaded by hacktivists and activists around the globe, online and in real life.
After the FBI came clean with some of the details pertaining to Sabu's cooperation with law enforcement, authorities announced that they had arrested one other American and several international suspected LulzSec operatives in connection with the sting, including, Ryan Ackroyd (aka "Kayla") and Jake Davis ("Topiary") from London, two residents of Ireland--Darren Martyn ("pwnsauce") and Donncha O'Cearrbhail ("palladium") and Jeremy Hammond, who used the handle "Anarchaos." Hammond was arrested at his Chicago, Illinois home and has been detained in New York City since.
In June of last year, PCMag profiled the alleged LulzSec operatives, including the "neuron" persona believed to have been operated by Rivera. "Described as one of the "'most technically able' associates of LulzSec, Neuron may have built software tools for the group and participated in some DDoS attacks," the outlet reported. PCMag also added that LulzSec publicly stated that Neuron was not a core member and that he was believed to be a US-based engineering student. Sure enough, his Facebook profile claims that he was previously enrolled at the University of Advancing Technology's Advancing Computer Science program, and was hired by the college; he claims he left this past January.
Rivera, along with Monsegur and Hammond, is thought to be one of only a few Americans LulzSec members arrested by authorities since the group began online campaigns last year. In September, Cody Kretsinger, also of Tempe, was charged with conspiracy and the unauthorized impairment of a protected computer for his involvement in the Sony hack. He pleaded guilty.