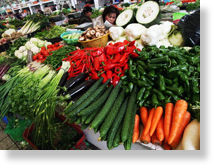 Food inflation will start hurting Asian economies by the end of the year if the current high prices are sustained over the next few months, with Vietnam, China and Hong Kong the most vulnerable, economists tell CNBC. Since mid-June, grains, namely corn, soybeans and wheat have rallied 38 percent, 24 percent and 45 percent, respectively, after the worst U.S. drought in a half a century wiped out crops in the world's biggest agricultural exporter. This prompted warnings from United Nations that the world could
see a repeat of the food scare
seen in 2008 as prices rose too rapidly, and officials from the Group of 20 countries to
plan a meeting
to discuss ways to cope with the price spikes.
While grain prices fell in New York on Tuesday because of rain across most of the Mid-West, prices will persist around current high levels, economists from Standard Chartered said in a report published this week. This is especially the case should
high temperatures persist
across much of the U.S. well into August, they said.
"If the price rises are sustained in the months ahead, we expect higher global food prices to affect Asia in early 2013, as our correlation analysis suggests a time lag of five to seven months for most Asian economies," according Tai Hui, Head of Regional Research for Asia with Standard Chartered.
Asia was hit hard in 2007 and 2008 when shortages of foodstuffs, especially rice, led to hoarding and riots. Food inflation hits Asia harder than other regions food make up a greater portion of consumer spending than in other parts of the world. In developing Asia, for example, it makes up 35 percent of consumer prices, compared with about 20 percent in the U.S. and Europe, according to the International Monetary Fund.
Economists at Nomura also raised the alarm on inflation in Asia last week, saying that large moves in global commodity prices could have an "acute" impact on Asia, given that the food component in CPI is very large". Food prices are far more important than energy prices in driving Asian inflation - the weighting of food items is typically two to three times larger than that of energy items in Asian CPI baskets.
"The combined weight of food and energy items in CPI baskets is very large, averaging 43 percent (in Asia), and around 50 percent or higher in the cases of India, Indonesia and the Philippines," Rob Subbaraman, Chief Economist Asia ex-Japan said. "The equivalent weight of food and energy items in the US CPI basket is much lower, at 24 percent."
If commodity prices climbed while global growth slowed, inflation in Asia will rise to 4.3 percent by the fourth quarter and 5.6 percent by the second quarter of 2013, Subbaraman said, adding there's a 30-40 percent chance of this scenario playing out. Hong Kong will be among the countries that will see the biggest price gains.
According to Stanchart's Tai Hui, Vietnam, China and Hong Kong are most vulnerable to food inflation because their CPI baskets are most correlated with global prices as measured by the CBR/Reuters Food Index, he added. Since June 15, the CBR/Reuters Index has gained about 10 percent since June 15 and the three grains - soybeans, wheat and corn - make up 18 percent of the index's weighting.
Hui said for every one percentage point increase in the CRB Food Index, inflation in Vietnam, and China and Hong Kong goes up 13.7 basis points, 6.3 basis points and 4.9 basis points, respectively. This does not include the secondary effect on wages or associated increase, he added.
For the rest of the year, Hui expects soybeans to average $16 per bushel in the third quarter and fourth quarter of the year, wheat to trade around $8.50 and $8.60 per bushel, and corn to persist at about $7.50 and $7.80 per bushel.
Soybeans
[SCV1 1635.50 10.25 (+0.63%) ]
were trading at $15.98 per bushel, wheat
[WCV1 896.50 14.75 (+1.67%) ] at $8.5825 per bushel and corn
[CCV1 811.75 4.25 (+0.53%) ]
at $7.89 per bushel on Tuesday.
Still, not all economists are raising red flags on food inflation. Frederic Neumann, Co-head of Asian Economics Research at HSBC, maintains that higher food prices are not a problem yet for the region's economies.
"Well, the situation isn't dire just yet, and developments need to be monitored closely but we are more worried about oil going up, and if that happens, both food and oil rising could become more of an issue," he said.
Neumann still expects inflation in the region, including China and Japan, to head lower this year to 2.5 percent, compared to 2.7 percent in 2011.