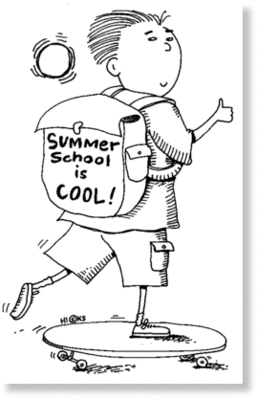 The District is paying 305 students with poor academic and behavioral records to attend summer school,
The Washington Examiner
has learned.
The rising ninth-graders are earning $5.25 an hour to participate in the "Summer Bridge" program, which targets students identified by D.C. Public Schools as less likely than their peers to graduate high school within four years.
The 95 students who voluntarily signed up for the summer school program will receive half of an elective credit. But to fill the 400-student session with at-risk students, DCPS reached out to the Department of Employment Services. More than 300 students flagged by DCPS and who had signed up for the Summer Youth Employment Program were told that school would be their jobs this summer.
Melissa Salmanowitz, a spokeswoman for Chancellor Kaya Henderson, said DCPS officials are going to study this year's results, with the intention of expanding the program next summer.
At-large Councilman Michael A. Brown, chairman of the committee that oversaw the summer jobs program until June, said there has been some pushback from residents who question whether paying students one summer leads them to expect rewards for showing up during the school year.
"That's a completely legitimate argument," Brown said. "It is a very, very, extremely justified, debatable issue and I don't think there's a right answer."
This summer isn't the first time the city has paid students to learn. The District allowed a Harvard University group to pay about 3,000 middle-school students up to $100 a month for good grades during the 2008-09 and 2009-10 school years. Grades overall didn't improve significantly.
Brown and Ward 8 Councilman Marion Barry, who created the summer jobs program in the 1970s, said this summer is not the first time students have been paid for classroom time, but could not provide details.
Gerren Price, the associate director of youth programs for the Department of Employment Services, said he believes this is a first-time program.
Salmanowitz described the Summer Bridge program as "an entirely different model." Students aren't making up failed coursework, and some of their class-time is devoted to workplace simulations. In one scenario, students use math and literacy skills to solve problems while pretending to be executives at a sports television network.
Kris Amundson, a policy analyst at think tank Education Sector, said she was unfamiliar with similar summer school efforts across the country, but thought the program was worth exploring as an avenue to reach children who wouldn't otherwise sign up.
"What would a rising ninth grader do at an internship? Probably mundane tasks, so maybe sitting in a classroom has potential for higher returns," Amundson said.
Handing paychecks to students for learning could, however, be a "slippery slope," said local political consultant Chuck Thies.
"How much will we pay going forward, and who will we pay, and what's the cutoff to get paid?" Thies asked. "It's critical that we get at-risk students and underperforming students and failing students into the program, but I don't think incentivizing them with money sends the right message."