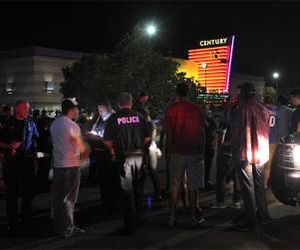 At least 12 people were killed early Friday morning when a gunman opened fire in a crowded Aurora, Colo. movie theater. The suspect, 24-year-old James Holmes, reportedly entered through an emergency exit heavily armed and carrying some sort of tear gas, and then began to randomly target attendees of
The Dark Knight Rises
premiere.
"He was dressed in black," James Wilburn
told the Denver Post
. "Wearing a flack jacket and a gas mask."
Naya Thompson, 21, and her Derrick Poage, 22, were on scene, but managed to escape unharmed. Thompson later told the
Denver Post
that gas of some sort was used and that the gunman may have dropped two canisters.
"It was like a tear gas," said. "I was coughing and choking and I couldn't breathe."
Benjamin Fernandez, 30, told the
Post
that he heard 'several' explosions.
Abenezer Mergia, 18,
told Fox News Channel
that despite the fact that young children
were
present, most of the attendees were between ages 15 and 25.
"It was probably from 15 to 25, that was the majority."
Some, like Jaime Marshall, didn't even fully understand what was going on when the gunfire erupted. As she told Fox:
"We thought someone was just pranking us in the movie," she said. Then, a man ran in and told people to get out, she said. "He said, 'Don't walk through the lobby, someone's shooting.'"
Salina Jordan, 19, told the Post that she saw people hit in her theater. According to her account of events, one girl was struck in cheek and others got hit in stomach.
Another witness told WDVR-31(via Fox) that bullets penetrated the wall between theater rooms.
"They said bullets were flying through the wall," the witness said. Then, gesturing to her friend, she said, "the girl that was sitting next to her got hit in the jaw."
Darrell Wilmoth told Fox News Channel that the theaters were packed with young people.
"The sad part is the majority of the theater was kids. It was just, crazy," he said. "My concern was just, getting those kids that were injured up to the ambulances. And praying. That's what I'm doing now, praying for those kids that were injured."