Melba, Idaho - A sinkhole near Melba claimed the life of a woman who was driving to work early Saturday morning on Butte Road, just east of South Powerline Road.
Kieran Donahue, a long-time deputy with the Canyon County Sheriff's Office, says this is a freak accident. He says there are rarely sinkholes in the county, let alone one that would appear on a road and kill someone.
But investigators say 32-year-old Sonia Lopez was driving to work at about 4:15 a.m. Saturday on Butte Road, south of Melba, and apparently didn't see the 20-foot wide sinkhole right in front of her.
"She's driving early in the morning hours, probably pitch black, and literally just drives right into this 2-3 foot deep hole," said Donahue.
Lopez was not wearing her seatbelt and was found dead more than an hour later by an out-of-county deputy.
Now filled-in, the only sign of the sinkhole and accident is a fresh patch of asphalt and a memorial to a young woman gone too soon. A yellow cross with messages like, "Love you and miss you so much" stands just feet from where the hole was.
Donahue says the sinkhole was caused by gophers digging tunnels under the road, and a nearby irrigation ditch flowing into those, washing away the earth.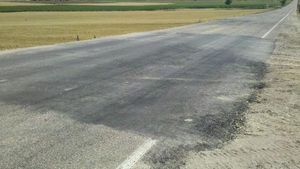 "The asphalt actually collapsed into this channel that the water had created, probably throughout the night, and maybe even longer, we don't know," said Donahue.
He adds that the sinkhole must've appeared in the middle of the night since no one had seen it on Friday.
The Nampa Highway District didn't return our calls for comment. But Donahue says with the danger forming underground there was almost no way to know that there was anything wrong.
Thursday was the first time we heard about the sinkhole. The deputy says the public wasn't notified because they had the sinkhole cordoned off Saturday and repaired by Tuesday.
Donahue also says if you ever see anything on or near a road that you think might need the attention of police or deputies, to give them a call. It might save a life.