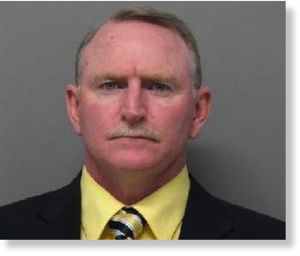 The Vermont State Police sergeant who allegedly defrauded the state of thousands of dollars in overtime faces two felony charges of false claims greater than $500, with a possible sentence for each of up to five years in prison or $10,000 in fines.
Chittenden County State's Attorney TJ Donovan, whose office is prosecuting the case, said it went beyond Deeghan simply claiming to work when he wasn't.
"It's not just padding a paycheck. It's fabricating events that did not occur," Donovan said.
An affidavit submitted to the Chittenden County District Court arraignment Friday allege that former Sgt. James Deeghan, 49, who has been a State Police officer since 1990, fraudulently claimed 63 hours of overtime between June 3 and June 30. A state police investigation suggests Deeghan made up entire incidents, such as three traffic tickets, two car accidents and a building alarm.
The fraudulent timesheet claims add up to $3,023.28 for the month of June, according to a report submitted by Lt. James Cruise of the State Police. Since the fraud in question took place over two separate pay periods, the state was able to bring two felony counts against Deeghan.
Governor Peter Shumlin's impromptu press conference Tuesday alerted media to the alleged fraud, but officials didn't yet have details on the case. Shumlin rarely calls last-minute press conferences as he did Tuesday, and in so doing caused some members of the press to question why what appears to be an isolated incident of fraud led to one this week.
Information released to VTDigger suggests Deeghan's overtime fraud may be more far-reaching than just last month. According to data released by the Department of Human Resources, Deeghan was the seventh-highest-paid state employee in Fiscal Year 2011 and the sixth-highest-paid in Fiscal Year 2012. In both years, Deeghan made more than Col. Thomas L'Esperance, the highest-ranking officer in the State Police.
In Fiscal Year 2011, Deeghan reportedly made $130,251, well over his $78,250 base salary. In FY2012, he topped that, bringing in $133,107.15. Job titles of employees who made more than Deeghan in FY 2011 and FY 2012, more often than not, have "Director," "Commissioner," or "Governor" in their job title.
"The important thing is we've only gone back one month so far, so this investigation will continue," Donovan said. The State's Attorney's office may file additional charges against Deeghan at any time, he said. If they do add more, Donovan said that would likely be done before an August 30 status conference on the case.
Donovan wouldn't say whether he thought the state would add charges and how sentencing might ultimately pan out, but "the investigation continues."
Chittenden County Chief Deputy State's Attorney Mary Morrisey, a 15-year veteran of the office, is prosecuting the case for the state, and Donovan said he was confident she would do it right.
"I think she's one of the best prosecutors in the state, if not the best prosecutor," Donovan said.
The Vermont State Police released the following information about Deeghan's employment history:
Employment information for James Deeghan
Date of Hire: 08-13-1990
Current Duty Station: Williston
Assignment History:
08-13-1990 - Orientation Tpr 2/c - Headquarters
09-04-1990 - Tpr 2/c - Academy
12-10-1990 - Post Basic Training - Tpr 2/c - Academy
12-24-1990 - Tpr 2/c - Colchester
08-18-1991 - Tpr 1/c - Colchester
08-29-1993 - Senior Trooper - Williston
02-03-1997 - State's Attorney Investigator - Chittenden County
01-16-2000 - Senior Trooper - Williston
02-14-2002 - Sergeant - Patrol Commander - Lamoille County
07-11-2004 - Sergeant - Patrol Commander - Williston
07-10-2012 - Submitted Resignation