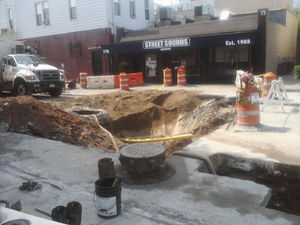 New York - Eleven families were evacuated from a Bay Ridge apartment building after a sinkhole opened up on the sidewalk in front of a 92nd St. building on Thursday, according to authorities.
The residents were evacuated as a precaution, authorities said. The sinkhole developed in the afternoon on the west side of the sidewalk on 92nd Street near Third Avenue.
"It's deep. It goes down about 50 feet," said Capt. Richard DiBlasio, commanding officer of the 68th Precinct.
Adding to the concern was the fact that the sinkhole was located next to a sewer underground, according to DiBlasio.
"It's hitting a sewer," he said.
The block of 92nd Street between Third Avenue and Ridge Boulevard was closed to vehicular traffic as emergency crews from the city's Department of Environmental Protection inspected the sinkhole. The area around the sinkhole was roped off with yellow tape to prevent pedestrians from getting too close.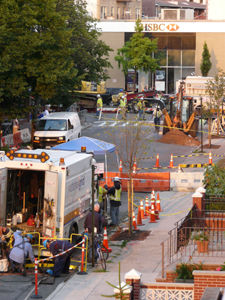 Officials from the city's Office of Emergency Management were also at the scene.
DEP crews filled the sinkhole with dirt to prevent any further erosion from taking place, News 12 Brooklyn reported.
DiBlasio assigned cops to the corner of 92nd Street and Third Avenue to redirect traffic.
Residents said the sinkhole literally swallowed a tree that stood on the sidewalk and sucked it below ground.
"It was unbelievable. One minute there was a tree there and the next minute there wasn't,"
one resident said as he watched the emergency crew at the scene.
As emergency crews and cops worked, two local eateries had a front row seat to all of the activity. The sinkhole was located a few yards from a Starbucks coffee shop at 9202 Third Ave. On the opposite corner is Paneantico, a café at 9124 Third Ave., which has tables on the sidewalk on both the Third Avenue and the 92nd Street sides of the eatery. Several customers sat at tables on the sidewalk and sipped cappuccinos while they watched the city crews at work.
The residents who had been evacuated were allowed to return to their apartments within a few hours, authorities said.