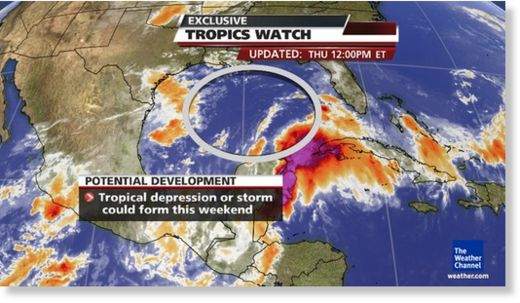 Last week we began discussing the potential for a depression or named storm to form over the Gulf of Mexico or western Caribbean later this week or weekend.
A enhanced pulse of thunderstorms, triggered by the Madden-Julian Oscillation, has arrived in the eastern Pacific, central America and the western Caribbean Sea from off southeast Asia and the Indian Ocean. Out of this spun up
Hurricane Carlotta
, which sliced into southern Mexico last week.
Now, winds aloft over the Gulf of Mexico are forecast to become more favorable for low pressure to form and consolidate at least sufficient convection to be deemed either a tropical depression or tropical storm ("Debby" is the next named storm in the list), possibly as soon as late Friday.
This matches up well with climatology, as the Gulf of Mexico and western Caribbean are typical "hot spots" for tropical cyclone development in June.
(MORE:
Tropical Update
|
Tropics Watch
)
While much remains unknown about the eventual strength of the tropical cyclone in the Gulf of Mexico, one impact looks increasingly likely, not only from the cyclone itself, but well ahead of it.
Click here to read more about the soaking scenario for the Sunshine State, in particular
.