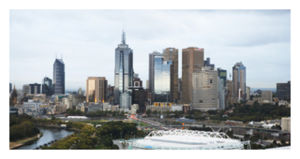 Up to 60 aftershocks have been felt across Victoria and in Melbourne following last night's 5.3-magnitude earthquake.
The quake struck just before 9pm (11pm NZ time) with the epicentre between Traralgon and Moe in the state's southeast.
The shaking lasted around 30 seconds but could be felt from Gippsland to metropolitan Melbourne and as far as Swan Hill in the state's northwest.
Seismologist at Geoscience Australia, Marco Maldoni, said the aftershocks were minor but may continue to be felt for weeks.
"These are a lot smaller than the initial earthquake, the vast majority below a two or three (magnitude),'' he told AAP.
"Quite a number of them could only be felt within the noise of the signal.
"We're talking about magnitude 1, so very small.''
Mr Maldoni said the
quake was the largest in Victoria since 1982 and the state's third largest in 100 years.
In terms of earthquakes this is a minor earthquake, but let's keep in mind the 1989 Newcastle earthquake was 5.6 magnitude and people died,'' he said.
"It is certainly significant for Australia and particularly for Victoria.''
Mr Maldoni said Gippsland was one of three areas in Australia where you could experience an earthquake of significant size, including the Flinders Rangers and Western Australia.
"People around Korumburra in Gippsland have been feeling earthquakes for the past few years. That's indicative of the fact there's a number of fault-lines in that part of the state,'' he said.
"These are basically cracks in the earth's crust where stress is much more easily released then other parts of the state.''
Victoria has experienced an earthquake of comparative size on average once every 15 years since 1900.