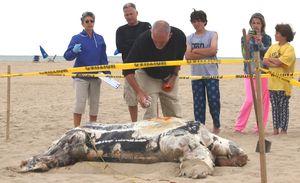 Shortly after reporting to duty on Sunday, Dewey Beach lifeguards spotted a large object floating in the surf about 100 yards from shore, surrounded by seagulls. It turned out to be a severely decomposed
leatherback
which the guards brought on the beach at Cullen Street.
The remains were so heavy, lifeguards asked the police for an SUV to help drag it across the sand toward the dunes where they planned to bury it after experts from the
Marine Education, Research and Rehabilitation Institute
examine it.
Suzanne Thurman, MERR executive director, says this was the only leatherback reported so far this year. It was roughly five-feet long and 500 pounds in weight. She says leatherbacks can reach 1000 pounds. The leatherback is the largest of all living sea turtles and is critically endangered.
MERR has investigated nine other sea turtle incidents so far this year - all loggerheads.
Five of the 10 sea turtle incidents were reported during the past three days. That includes the turtle from Dewey and four others found along the Delaware Bay. Thurman says the strong northeast wind has been bringing the remains to shore, and she had pre-alerted the MERR team on Friday anticipating this might happen.