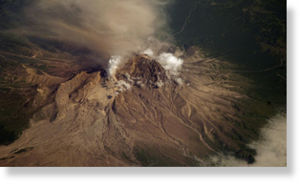 The Shiveluch volcano on Kamchatka Peninsula in Russia's Far East has erupted ash rising to an altitude of 8 km above sea level, ITAR-TASS reports.
Currently there is no danger for local communities. The eruption was accompanied by underground shocks which lasted 3.5 minutes.
A red alert has been declared following the eruption of the Shiveluch volcano in Russia's Far East Kamchatka region.
It is the highest aviation safety alert, meaning that the volcano presents extreme danger to aircraft, a local geophysics agency said.
The Shiveluch volcano is the most northern and the most active volcano on Kamchatka. The volcano became active in 1980.