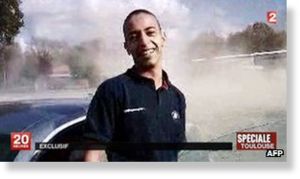 The father of Mohamed Merah, the Islamist gunman killed by French police after shooting seven people, has formally sued over his son's "murder".
A lawyer for Mohamed Benalel Merah, who lives in Algeria, said the suit was against those "who gave the orders at the top of the police".
The gunman was shot dead at his flat in Toulouse after a 32-hour siege.
He had confessed to killing seven people, including Jewish children, in a rampage which shocked France.
Mohamed Benalel Merah said soon after his son's death on 22 March he intended to sue the French government.
'Questions'
On Monday, French lawyer Isabelle Coutant-Peyre, who is assisting Algerian lawyer Zahia Mokhtari, filed the suit in Paris.
"This is a suit against unnamed persons for murder with aggravating circumstances concerning those who gave the orders at the top of the police," said Ms Coutant-Peyre.
In all, Merah, 23, shot dead three soldiers, three children and a teacher, filming his attacks.
He was dubbed the "scooter killer" because of the stolen vehicle he used in the three separate shootings in Toulouse and the nearby town of Montauban.
Ms Coutant-Peyre was quoted by AFP news agency as saying: "You've got 300 to 400 heavily armed people and a guy shut up all alone in his apartment. That alone is enough to raise questions."
The father's suggestion in March that the French authorities had deliberately chosen to kill his son rather than capture him caused indignation in Paris.
"If I were the father of such a monster, I would shut my mouth in shame," said Alain Juppe, who was then French foreign minister.