Kelly Slater
was victorious
Monday in the
Volcom Fiji Pro
at
Tavarua
, but the bigger story was the massive swell that slammed the remote island earlier during the
ASP World Championship Tour
competition. The waves became so large and dangerous on Friday that the contest was called off after two heats, but that did not stop a handful of event surfers and some of the world's premier big-wave riders from participating in the most epic free-surfing session ever held at Tavarua.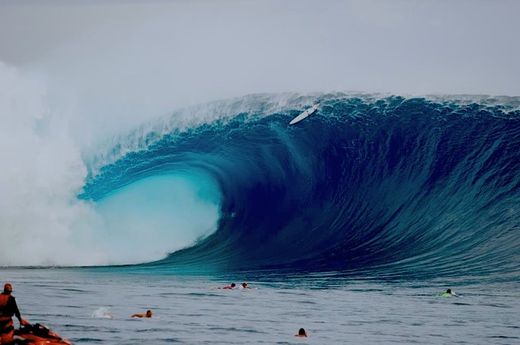 One of many surfboards shattered to pieces during this now legendary afternoon in Fiji was the one seen dangling on the top of this beast (measuring 8-feet in length). The owner, in an effort to escape a similar fate, dove deep under the massive wall of water. Photo: ASP/Robertson
"Those were the biggest, most perfect waves I've ever surfed," said Bede Durbidge, who was in the first of two heats before contest organizers postponed the competition. "It was pretty nerve-wracking being first up... You have to be prepared to go."
Raoni Monteiro and Kai Otton were in the second heat. Monteiro suffered a knee injury during a vicious wipeout. Otton, after his successful ride to end the heat, stated: "If that wave didn't come in for me at the end, that would have been it for me. Thankfully it did and I survive to surf another day."
The postponement opened the Tavarua surf spot, named Cloudbreak, to big-wave specialists and their longer surfboards, a few of which were loaned to ASP competition surfers.
Wave faces measuring 30 feet hurled over the reef, generating enticingly beautiful barrels but with potentially serious consequences for anyone caught in the wrong place at the wrong time.
Fortunately, there were no serious injuries, while there were several incredible barrel rides (be sure to see Ramon Navarro's ride at about the 1:00 mark).
Greg Long, a renowned big-wave specialist from Southern California, was describing Friday as the best day of big-wave surfing he had ever seen.
But the swell slowly waned and for those who may be interested, the swell had dropped to 4-6 feet on Monday, when Slater prevailed over Gabriel Medina to win the Volcom Fiji Pro.