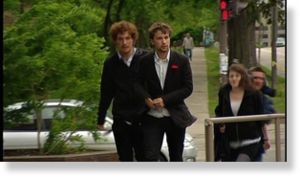 Canada - The Quebec government is willing to modify its plans to hike university tuition, student leaders said Tuesday night as they exited a second day of talks aimed at ending the province's student strike.
"We are staying at the bargaining table because it's worth it - which is to say that yes, evidently, we're talking about tuition fees," said Martine Desjardins, president of the Fédération étudiante universitaire du Québec, one of four umbrella student associations participating in the talks.
Asked whether a deal is imminent, Desjardins told reporters outside the Education Ministry's offices in Quebec City, "We'll be discussing for all of tomorrow, so it depends on what you mean by 'imminent.'"
Both sides introduced proposals on Tuesday to end the impasse, with "several scenarios around the table from the different parties," according to Gabriel Nadeau-Dubois, spokesman for the more hardline student group CLASSE. "We'll take the night and probably the morning tomorrow to evaluate them," Nadeau-Dubois said.
The two sides haven't yet set a time for discussions to resume on Wednesday.
It's the first sign the talks might be nearing a deal to end a student strike and a wider social uprising, which has seen tens of thousands of people rally in the streets of Montreal, Quebec City and other communities over the past 3½ months. Nightly protests, the most intense of which involved the mass arrests of hundreds of people and clashes with police, have gone on for the last 36 days.
It's unclear whether Tuesday's negotiations touched on Bill 78, the controversial emergency provincial legislation brought in on May 18 to quiet the protests. CLASSE had said it would only participate if the revocation of Bill 78 was on the table. But Nadeau-Dubois said going into Tuesday's bargaining that so far, the topic of Bill 78 had not been broached.
It's also unclear whether any deal would be ratified by striking students. The last tentative agreement to end the strike, on May 5, was roundly rejected when students voted on it and failed to end the impasse.
Education Minister Michelle Courchesne said going into Tuesday's talks that she was happy with the attitude the student side brought the day before.
"I said yesterday that we share responsibility for arriving at a solution, and ... they showed openness," Courchesne said. The minister did not speak to reporters following Tuesday's meeting.
The Liberal government's original plan, conveyed in its March 2011 budget, was to raise tuition by 75 per cent over five years, to $3,793 a year before ancillary fees. It then softened its position in last month's negotiations with students and said it was willing to spread the increase out over seven years and to wait six more months to implement it - likely delaying any fee hike until after the next provincial election.
Quebec Finance Minister Raymond Bachand said Monday that whatever agreement the province and student leaders arrive at in the latest round of talks, it cannot involve more taxpayer money going to higher education. The tuition hike could still be attenuated, however, by rejigging other university budget items such as infrastructure spending, Bachand said.
Students are mainly represented at the table by the 125,000-strong FEUQ, the 100,000-member CLASSE and the 80,000-member Fédération étudiante collégiale du Québec, which represents students at Quebec's CEGEP preparatory colleges. The smaller Table de concertation étudiante du Québec, or TaCEQ, is also taking part.
About 150,000 Quebec post-secondary students are still on strike and boycotting classes.