WARNING: GRAPHIC CONTENT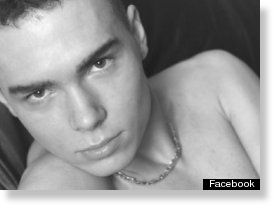 A video that purportedly shows a suspect wanted in connection with the Ottawa - Montreal body parts case brutally killing and sexually assaulting a naked man appears on a Canadian-operated website.
Police are now studying the gruesome video, which was believed to have been taken by the suspect, identified today by police as Luka Rocco Magnotta.
Magnotta is wanted in connection with the discovery of a man's torso
stuffed in a locked suitcase
in Montreal - whose
hand and foot
were mailed to Ottawa.
A man by the same name as Magnotta - who is featured on a number of lurid websites - is a low-budget gay porn star suspected of appearing in a number of kitten-killing videos.
In the past, Magnotta was rumoured to have been romantically linked to Karla Homolka, ex-wife of notorious killer Paul Bernardo, who served 12 years in prison for her role in the murders of Kristen French and Leslie Mahaffy.
Magnotta, however, vigorously denied those allegations, telling the
Toronto Sun
in 2007 he had never even met Homolka.
Montreal police said other body parts were found in the apartment where the homicide took place, but wouldn't say which ones.
They aren't ruling out other body parts being sent in the mail.
Magnotta, 29, uses the pseudonyms Eric Clinton Newman and Vladmir Romanov and is wanted on a Canada-wide warrant.
He's white, weighs 61 kilograms, and has black hair and blue eyes.
Magnotta is believed to originally be from Toronto and was renting an apartment in a Montreal building that is now at the epicentre of the body-parts investigation.
Lafrenière said the crime scene, inside an apartment unit, was one of the worst his force has seen.
"[It was] a very difficult scene, officers haven't seen that kind of scene in many years, he said.
A janitor discovered the torso, which belongs to a man, in Montreal on Tuesday at about 10 a.m. in the city's Snowdon neighbourhood and quickly called police.
A Conservative staffer in Ottawa called authorities at about 11:30 a.m. to report the arrival of a suspicious, blood-stained package at the party's headquarters, just blocks away from Parliament Hill.
After police confirmed there was a severed foot inside, they announced another body part - a hand, this time - had been found inside a package at the Ottawa Postal Terminal.
It is believed the hand was bound for the office of the Liberal party.
Police are also in possession of the video of the dismemberment, which was believed to have been taken by the suspect.
Best Gore, the website showing the alleged Montreal attack, describes itself as a "reality news website" that posts real videos to show people the "uncensored truth."
"They are as real as they get and I believe people have the right to know the truth," the website reads.
The nearly 11-minute video purports to show Mr. Magnotta attacking a naked man, who is tied to a bed frame, with both an ice pick and a kitchen knife, according to the description. The victim is stabbed, has his throat slashed and is later decapitated and dismembered.
The video, filmed in a dimly lit room, also shows the killer playing with his victim's limbs and using one of them to masturbate. The attacker later performs a sex act on the dismembered, decapitated corpse. He also uses a knife and fork to slice a piece of fatty flesh from the victim's rear, and then brings in a dog to eat the purported corpse.
The video was posted on Best Gore May 25, but it is unclear when, or where, it was filmed, although police have confirmed Magnotta's Montreal apartment was a crime scene.
"1 Lunatic 1 Ice Pick is without a doubt the sickest thing you will have ever seen in your entire life," Best Gore writes.
"It is a sad reminder that things far worse than any of us would ever imagine really take place in our neighborhoods."
At the end of the video, a photo is shown of a person dressed in a purple hooded jacket or sweater, leaning over while holding what appears to be an ice pick. His or her face is mostly obscured - the only details that can be made out are that the individual has light skin and brown, cheekbone-length hair.
The person is standing in front of a poster of the movie
Casablanca
.
"Thorough investigation by the Best Gore community [led] to an assumption that the 1 Lunatic 1 Ice Pick perpetrator could be a renowned cat killer and internet attention whore Luka Magnotta," the website reads.
Luka-magnotta.com, which describes it as the man's official website, offers little detail about him aside from some model-style photographs, and his musings on law and media.
But a profile attributed to "Luka Rocco Magnotta" on ohinternet.com describes Mr. Magnotta as a "Canadian model and bisexual pornstar" who allegedly suffocated two kittens, filmed it, and posted it to YouTube.
But also on luka-magnotta.com, under a section called "Cyber Stalking," Mr. Magnotta says false information is being posted about him online. He writes there is no "substance or fact in their statements or claims," but does not specify which claims.
"If the readers of these posts can look behind the storyline that has been created, they will see that there is no reference to a concrete transaction or event that has taken place with any specific person in which I have committed any illegal activity," the website reads.
"Instead the posts are a series of 'he said she said' rumours that are completely fabricated and circulated by specifically the person(s) who made these posts. Individuals with their own agenda who have way too much time on their hands, who feel the need to bad mouth others under the cloak of anonymity on the internet."
Body Parts Mystery Timeline



Tuesday

10 a.m.: A janitor discovers a human torso in a suitcase in Montreal in the city's Snowdon district

11:15 a.m: The Conservative Party of Canada headquarters receives a package via Canada Post. They open it partially before calling the police

11:20 a.m.: Ottawa police respond to a call from the party headquarters about a suspicious package stained with blood

2:40 p.m.: Police confirm there is a human foot inside the package

5:30 p.m.: Police emerge from the Conservative party headquarters carrying a yellow plastic bag with the package inside

9:30 p.m.: Ottawa police confirm they found a second body part - a hand - inside a package at the Ottawa Postal Terminal, where mail is processed. This package was destined for the Liberal party headquarters

Wednesday

10 a.m.: Police confirm both packages containing the body parts originated in Montreal

12 p.m.: Montreal police say the torso, foot and hand all belong to the same person; say suspect and victim know each other

2:30 p.m.: Montreal police announce they are looking for suspect Luka Rocco Magnotta