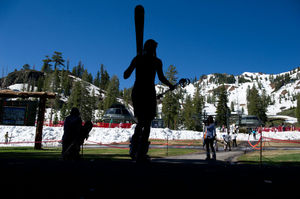 The advice this Memorial Day weekend, particularly for folks heading into the Sierra, is "Be prepared."
National Weather Service and state transportation officials say travelers can expect everything from snow showers and accumulations of up to 6 inches in the high country today and Saturday to temperatures in the 80s in the Sacramento Valley on Sunday and Monday.
"We have a cool-weather system dropping down from British Columbia and washing over Northern California," said Karl Swanberg, a forecaster with the National Weather Service in Sacramento.
A high of 69 degrees is forecast for the Sacramento area today, 15 degrees below the average high of 84 for this time of year. The drop in temperature will be accompanied by a 30 percent chance of rain and a slight chance of afternoon thunder-showers.
In the mountains, a winter weather advisory is in effect from 5 a.m. to 6 p.m. today, and snow levels are expected to drop to about the 5,500-foot elevation, with some accumulation above 6,000 feet.
"The road surface is warm this time of year," Swanberg said, which should help keep snow from accumulating on the roadway. "But there could be enough to cause slippery conditions."
California Department of Transportation officials say motorists should be prepared for winter driving conditions and warn that chain controls could be in effect at times today.
High temperatures today in the Sierra are expected to range from the mid-30s to about 50 degrees. Southwesterly winds of 15 to 30 mph also are forecast, with gusts to 45 mph.
Although storms this late in the spring are somewhat unusual, it's still May, the tail end of the potentially active period of the season, Swanberg said, and people should plan accordingly.
"Bring along the coat, the gloves and the long pants, and expect a brief period of winter driving conditions," he said.
Although snow showers will continue at higher elevations through much of Saturday, the Valley will begin to dry out. Highs in the Sacramento area are expected to be in the low to mid-70s Saturday and in the low 80s Sunday and Monday.
A high around 48 degrees is forecast for South Lake Tahoe on Saturday, but temperatures are expected to reach the low 60s on Sunday and Monday.