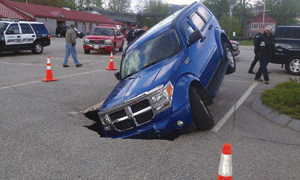 Conway - A sport utility vehicle parked in a lot in North Conway Village fell into a sinkhole on Friday morning after the ground under the pavement became undermined.
An employee of Priscilla's Country Cafe left her blue 2007 Dodge parked in a space between the restaurant and the T.D. Bank office, but by 7:30 a.m., officials said, its passenger-side front tire had buckled the pavement.
The pavement under driver's side was also clearly undermined, Conway Police Sgt. Russell McLauchlan said, and it wasn't long before that side also fell into the three-foot deep hole. The vehicle sat perched, its front tires in the hole, its rear tires on the pavement, the undercarriage against the jagged edge of the pavement.
Officials blame the sinkhole on an old storm drain or old septic tank buried several feet down. The tank provided a space for the soil to move into, creating a void beneath the pavement. The weight of the vehicle then led the pavement to buckle. The undermined section spanned two parking spaces, Sgt. McLauchlan said.
The vehicle itself didn't sustain much damage when the pavement collapsed and it went in the hole, according to officials.
"Getting it out of there was the problem," Sgt. McLauchlan said. The front bumper, wheel wells and running boards all suffered as a tow truck pulled it out, North Conway Fire Chief Pat Preece said.
The area was marked off and a construction crew was called in immediately to deal with the hole.