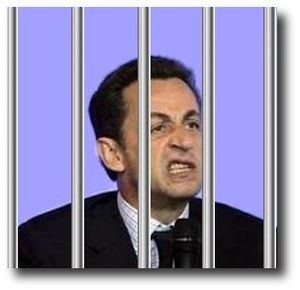 Outgoing French president likely to return to law practice, but could be forced to explain himself over series of scandals
He has spent 30 bruising years in politics, often saying it would have been more pleasant to earn big money in private business, and now plans to return to work as a lawyer while his millionaire pop star wife takes to her tourbus with a new album. But after he hands power to the Socialist François Hollande next week, Nicolas Sarkozy's biggest post-presidential headache is likely to come from the justice system.

Comment: It should be clarified that "30 bruising years" really means 30 years of bruising (and murdering) others.


In a ceremony at the Élysée palace on Tuesday, Sarkozy will pass the presidency to France's first leftwing leader since François Mitterrand. He will then walk the final metres of red carpet to his grace-and-favour chauffeur-driven car and return home to Carla Bruni's west Paris mansion. He has said he wants to quit politics, although few believe him, and he has warned journalists: "You won't hear from me again."
But when Sarkozy's presidential judicial immunity officially ends on 16 June, he risks dominating the headlines once more, as he could be forced to explain himself to magistrates over a series of party funding scandals that have dogged his time in power.
During the campaign, the Socialist former presidential candidate Ségolène Royal said Sarkozy was fighting so hard for re-election because he was so afraid of losing his immunity as head of state. "Everyone knows all the corruption problems that have peppered this last five years," she said.
The first scandal Sarkozy could face questions about involves allegations over brown envelopes of illegal cash were given to that Sarkozy'shis party received brown envelopes of cash from France's wealthiest woman, Liliane Bettencourt, during the 2007 election campaign. An investigating magistrate is trying to establish whether
Sarkozy's successful campaign received €800,000 in illegal funding
, and whether transfers from Swiss accounts may have been handed over to Sarkozy's campaign treasurer or even to Sarkozy himself.
In February, Eric Woerth, the former budget minister and treasurer of Sarkozy's UMP party, was placed under judicial investigation over cash he was alleged to have received from Bettencourt to fund the 2007 campaign.
Sarkozy could also become a focus of a separate investigation into whether there was a shady "cabinet noir" at the highest reaches of the French state that used the secret services to spy on journalists at
Le Monde
to uncover their sources for stories about the Bettencourt affair. A security chief and Sarkozy ally has been placed under investigation.
Sarkozy has denied outright any links to the scandal but has never given his version of events to judges. Magistrates working on the cases have so far kept silent over whether they would call him to testify.
In another case, known as the Karachi affair, potentially the most damaging political corruption inquiry in recent French history, judges are investigating allegations that kickbacks from French arms sales to Pakistan in the early 1990s secretly funded the failed presidential campaign of Sarkozy's mentor Edouard Balladur. Sarkozy was his campaign spokesman.
Sarkozy's office has said he had nothing to do with the case. The families of 11 French engineers killed in a bomb attack in Pakistan in 2002 that is believed to have been linked to the case are calling for answers.
The latest case involves the investigative news website Mediapart, which last month
published a document
it said showed that the former Libyan leader Muammar Gaddafi had agreed to fund Sarkozy's 2007 campaign. Sarkozy
sued Mediapart
, calling the document an "obvious fake", and Libya's National Transitional Council has also cast doubt on it. A judicial investigation has been opened to ascertain its veracity.
Last year, in a humiliating post-script to one of the longest political careers in Europe, Jacques Chirac was convicted of corruption when a court found him guilty of misusing public funds for political purposes while he was mayor of Paris. He was accused of siphoning off state funds for party work that ensured his election as president in 1995. He was the first postwar French president to be convicted of a crime.
Sarkozy's head of communications, Franck Louvrier, said the president was likely to return to his old law practice in September. As only the second postwar French president to be ejected after one term, Sarkozy said after his defeat that he would go back to being "a Frenchman among the French". But asked whether he was likely to quit politics entirely, his minister for solidarity, Roselyne Bachelot, replied: "In your dreams."
Sarkozy will still benefit from an office, staff, car, security and free travel by train and on Air France. The Socialist MP René Dosiere has estimated that retired presidents cost the state €1.5m a year. Sarkozy could also take up his seat on France's constitutional council.
Bruni is expected to release her fourth album, which had been on hold for the election campaign, in the autumn. She is expected to begin touring again, after stopping all gigs as first lady. Some in the French music industry felt that her image as a folk star would never be able to escape the stamp of the presidency. The multimillionaire heiress and former model, who described herself and her husband as "modest" people during the campaign, told
Le Figaro
she was looking forward to "living like everyone else".