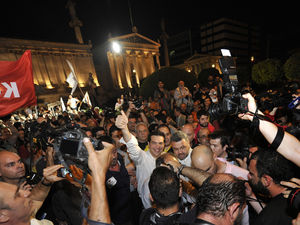 Frontrunner to form a new government shocks financial markets with remarks over EU and IMF loan agreement
The fate of Greece is, on Tuesday night, in the hands of the leader of a far-left party who launched the quest to form a government by declaring the country could no longer commit itself to the terms of an international loan agreement keeping its economy afloat.
After accepting a mandate to create a multiparty administration following inconclusive elections, Alexis Tsipras sent shockwaves through financial markets by announcing the pledges Athens had made to secure rescue funds from the EU and IMF were null and void.
"The popular verdict clearly renders the bailout deal null," said the politician, whose stridently anti-austerity coalition of the radical left, known as Syriza, sprung the surprise of the weekend's poll, coming in second with 16.8% of the vote. "This is an historic moment for the left and the popular movement and a great responsibility for me."
With just three days in which to form a government that could fill the power vacuum that has emerged in Athens, Tsipras said he would begin by approaching other leftwing forces in an attempt to "end the agreements of subservience".
The signing of the loan had not been "a salvation but a tragedy", insisted Tsipras, who at 38 is Greece's youngest frontline politician. New Democracy and Pasok, the two parties that signed it - and until Sunday the dominant forces of Greek politics for the past four decades - should, he said, withdraw their support for the accord: "The pro-bailout parties no longer have a majority in parliament to vote in destructive measures for the Greek people. This is a very important victory for our society."
Tearing up the letters of guarantee they had given creditors would be evidence that "they [ND and Pasok] truly regret what they have done to the Greek people," he said before calling for a temporary halting of repayments of Greek debt.
Once brushed off as a lightweight, Tsipras has come into his own with the debt crisis with his fierce denunciations of the inequities of austerity. Syriza, as a result, is riding high on popular resentment about repeated waves of tax increases and pay and pension cuts. There are also hopes in Greece that the defeat of French president Nicolas Sarkozy by his Socialist rival, François Hollande, is a harbinger of an imminent shift away from austerity to development and growth in European policymaking.
"Greeks haven't become leftists overnight - the support for Syriza was about punishing the two main [pro-bailout] parties," said Haris Papasotiriou, professor of political science at Panteion University in Athens. "Greeks, however, are of the mind to give Tsipras a chance. Even if the room for manoeuvre is very tight, they believe he can get a better deal from the EU and IMF."
But finding the support to create an alliance will not be easy for Tsipras. Syriza, a coalition of ex-communists, Maoists, Trotskyists, socialists and greens, commands 52 seats in the 300-seat house under a complex electoral law that rewards the winner with a bonus 50 seats.
The centre-right New Democracy, whose efforts to form a government collapsed on Monday, clinched 18.9%, the largest share of the vote, but with just 108 members in parliament fell far short of a working majority.
Tsipras's overtures were rebuffed out of hand by the hardline KKE communist party, with its secretary general, Aleka Papariga, refusing to even meet him. One of Europe's most dogmatic communist parties, with the hammer and sickle as its emblem, the KKE has never forgiven young reformists like Tsipras for rejecting orthodox Marxist-Leninist doctrine and embracing the spirit of glasnost.
However, Tsipras made headway with Fotis Kouvellis, the leader of the Democratic Left party, who said he would support "an anti-bailout coalition government" as long its objective was to keep Greece in the euro.
"On paper it might not look as if we can do it, as if the numbers don't add up, but we will approach all the parties [with the exception of the ultra-nationalist Chrysi Avgi] to see if they would be willing to endorse [if not participate in] such a government," said a senior Syriza cadre.
Alarm in EU capitals is growing, with Germany in particular emphasising that Greece must stick with the terms of the agreements it has signed with lenders who have committed themselves to give a total of €240bn to the crisis-hit country.
The prospect of protracted political instability has stoked fears that Greece is not just teetering on a political precipice but also laying the ground, however unwittingly, for its own euro exit.
Syriza MPs contend that the ultimatum "bailout or bankruptcy" has been overblown and is little more than a scare tactic used by the mainstream parties to whip up support for the "barbaric measures" outlined in the deeply unpopular fiscal adjustment programme that rescue loans entails.
Tsipras, whose casual demeanour belies a steely political backbone, told the
Guardian
on the eve of Sunday's vote: "We are not against the euro but we are opposed to the policies being pursued in the name of the euro."
"I hear that now they've gone from protest party to possibly forming a government, they're reaching out in a big way to economists," said Papasotiriou. "I don't think they ever thought they would be in this position," he added. "But if, as looks likely, there are repeat elections, Syriza might even emerge with a better result as the first party."