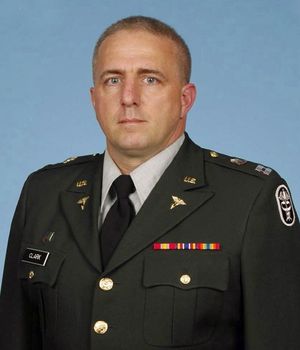 Army investigators said Monday they found no bullet wound or evidence of foul play in the death of a soldier in Afghanistan who died during a Skype video chat with his wife.
Capt. Bruce Kevin Clark collapsed while speaking to his wife on May 1 from his base in Tarin Kot, Afghanistan, southwest of Kabul.
His wife, Susan Orellana-Clark, has suggested that Clark was shot, citing a hole visible in the closet behind him that she believed was a bullet hole
.
Investigators said an initial probe showed no trauma to the body except that Clark broke his nose when he fell forward. Orellana-Clark said he didn't seem alarmed before he collapsed.
Christopher Grey, a spokesman for the Army Criminal Investigation Command, said Monday that the investigation is still under way.
"But the important thing is that there was no bullet wound, no trauma," except that Clark's nose was possibly broken when he fell on his desk, Grey said in a telephone interview.
"We can positively say that Captain Clark was not shot," Grey later said in a statement.
An autopsy was done Friday but it could take several weeks to get results of toxicology and tissue testing done at that time, Paul Stone, a spokesman for the Armed Forces Medical Examiner, said Monday.
Clark's family released a statement Sunday describing what his wife saw in the video feed recording her husband's death.
"The closet behind him had a bullet hole in it," the statement said, adding that others, including a member of the military who came to Orellana-Clark's Texas home, also believed it was a bullet hole.
The statement says the Skype link remained open for two hours after Clark collapsed as family and friends in the U.S. and Afghanistan tried to get Clark help. Although it was the night of Monday, April 30, at his El Paso, Texas, home, Clark's time of death is officially listed as May 1, the date in Afghanistan at the time.
"After two hours and many frantic phone calls by Mrs. Clark, two military personnel arrived in the room and appeared to check his pulse, but provided no details about his condition to his wife," the statement said.
Despite the trauma of witnessing her husband's death from thousands of miles away, Orellana-Clark said last week through a statement issued by the family that she and her extended family were thankful that husband and wife "were together in his last moments."
Orellana-Clark said the reason for the family statement Sunday on the bullet hole was to provide details of what she saw "to honor my husband and dispel the inaccurate information and supposition promulgated by other parties."
Grey's statement Monday expressed condolences to Clark's family, friends, and fellow soldiers, saying "we know this is a very traumatic and difficult time for all involved."
Family spokesman Bradley Taber-Thomas said Monday the Army has not notified the family of any cause of death.
Grey said investigators will "consider all available evidence" before reaching a final determination.
"Although we have not completely ruled it out to ensure a complete and thorough investigation is conducted, we do not suspect foul play in the death of Captain Clark at this point," Grey said. "We will continue to keep the next of kin updated as the investigation continues."
Clark grew up in Michigan and previously lived in Spencerport, N.Y., a suburb of Rochester, his wife's hometown. He joined the Army in 2006 and was stationed in Hawaii before he was assigned to the medical center in El Paso. He deployed to Afghanistan in March.
Clark's body was returned Thursday to Dover Air Force Base. The body was still there Monday and officials said they didn't have information on when it would be transported to Spencerport for the funeral.
He is survived by his wife and two daughters, aged 3 and 9.
___
Associated Press writer Ramit Plushnick-Masti contributed to this report from Houston.