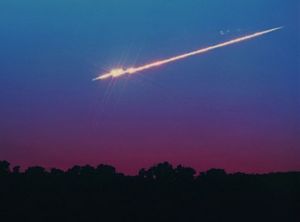 A call that brought out search and rescue crews off the Lake Michigan shore Tuesday night may have been sparked by a falling meteor.
The U.S. Coast Guard Canal Station in Sturgeon Bay responded to a sighting of an off-shore white flare near Jacksonport Tuesday night.
"We had a call at approximately 9:15 p.m. local time of one white flare an undetermined distance off the shore" near Jacksonport, said BMC Justin Longval, executive petty officer at the station.
A white flare does not necessarily mean distress - a distress flare is red - but the Coast Guard launched its 45-foot response boat and called in an aircraft from the Air Station in Traverse City, Mich., for the search.
The Coast Guard searched by air and water for two hours without finding anything or anyone, Longval said.
A helicopter from Traverse City conducted a first-light search Wednesday morning. It found nothing.
"It's always better to report it" and make sure there is nothing there, he said.
The Coast Guard has received no reports of missing persons or vessels and concluded the sighting may not have been flare.
"Meteorite, falling star, whatever you want to call it," Longval said. There is no way to know.