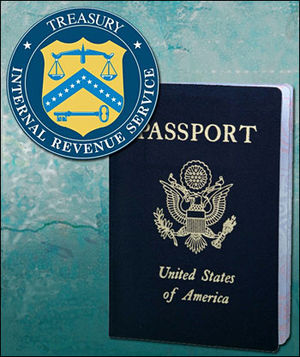 CBS is
reporting
that
Senate Bill 1813
that would "suspend passport rights for delinquent taxpayers" passed the Senate 74-22 on March 14th.
A bill authored by a Southland lawmaker that could potentially allow the federal government to prevent any Americans who owe back taxes from traveling outside the U.S. is one step closer to becoming law.
...The 'Moving Ahead for Progress in the 21st Century Act' or 'MAP-21' includes a provision that would allow for the 'revocation or denial' of a passport for anyone with 'certain unpaid taxes' or 'tax delinquencies'.
This is the most recent example of the U.S. government treating rights as privileges that they can remove through legislation. This bill should be renamed "Keeping the Slaves on the Plantation Act."
Unfortunately, it's understandable why this type of bill would draw majority support. Since more than
70% of Americans don't have passports
, the law doesn't affect them. Additionally, many would equate this as a justified loss of freedom for wealthy people who seek to evade taxes by moving themselves and money offshore.
Indeed,
Section 40304
of the 1679-page bill seems to only target well-off individuals; "that any individual has a seriously delinquent tax debt in an amount in excess of $50,000, the Secretary shall transmit such certification to the Secretary of State for action with respect to denial, revocation, or limitation of a passport".
Of course, these figures are generated by the IRS which places the burden of proof on the individuals to prove that they don't owe what the IRS says they owe. Consequently, they can arbitrarily determine any figure they wish to impose on a citizen without much recourse for the accused.
However, those described as having "seriously delinquent tax debt" must have "an outstanding debt under this title for which a notice of lien has been filed in public records". Which means that the amount has to be agreed upon in court and levied against the property or wages of the citizen.
This new "revocation authorization", created as an amendment to the
Passport Act of 1926
, gives the Secretary of State the authority not only to deny passport applications, but also to revoke current passports even if the citizen resides abroad.
The bill states that the Secretary of State, before revocation, "may limit a previously issued passport or passport card only for return travel to the United States; or issue a limited passport or passport card that only permits return travel to the United States." In other words, it also allows them to extradite citizens back to the United States if they're considered seriously tax delinquent.
Most significantly, as the CBS article points out, these citizens would be losing their travel rights not because they are accused or convicted of a crime such as tax evasion, rather simply because they have a lien of debt:
However, there does not appear to be any specific language requiring a taxpayer to be charged with tax evasion or any other crime in order to have their passport revoked or limited - only that a notice of lien or levy has been filed by the IRS.
Removing rights from individuals who violate the countless laws in the land of the free is one thing, but because they are accused of owing money is quite another thing. Law abiding citizens should never have their rights revoked because they owe a financial debt. That is why this bill should be called "Keeping the Slaves on the Plantation Act". The masters want to keep their property producing for them.
Read other articles by
Eric Blair here
.