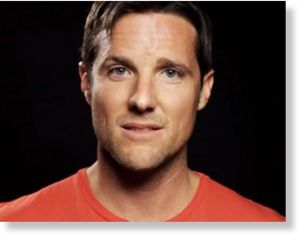 The wife of Jason Russell, the creator of the viral
Kony 2012
video, said her husband was suffering from "extreme exhaustion and dehydration," after police found him last week nearly naked and incoherent in his San Diego neighborhood.
Russell's wife Danica
said in a statement
that her 33-year-old husband's meltdown was not caused by drugs or alcohol. "Jason has never had a substance abuse or drinking problem, and this episode wasn't caused by either of those things," she wrote. "But yes, he did some irrational things brought on by extreme exhaustion."
Russell was expected to be released soon from a mental facility. A spokeswoman for Invisible Children, the San Diego-based advocacy group Russell co-founded, did not return a request from Yahoo News for comment.
"Because of how personal the [Kony] film is, many of the attacks against it were also very personal and Jason took them very hard," Danica's statement continued. "Jason has dedicated his adult life to this cause, leading to
KONY 2012
. We thought a few thousand people would see the film, but in less than a week, millions of people around the world saw it."
The filmmaker was taken into custody by police, who were alerted by people in the neighbor to his strange behavior.
"Several callers called the Police Department to report the bizarre behavior from a gentleman, white male, age 33, who lived in the Pacific Beach Area," San Diego Police Dept. spokeswoman Lt. Andra Brown told Yahoo News on Friday. "Callers said he was running through the street in his underwear. Someone said he was naked and masturbating. Officers could not confirm that."
"He was interfering with traffic, banging his hands on the sidewalk, yelling and screaming. People were trying to calm him down," Brown said.
TMZ posted a video purportedly showing Russell ranting to no one in particular
.
Russell and Invisible Children had been planning a U.S. tour in April to promote the film.
"Jason Russell was unfortunately hospitalized yesterday suffering from exhaustion, dehydration and malnutrition," Ben Keesey, the organization's chief executive, said in a separate statement Friday. "He is now receiving medical care and is focused on getting better. The past two weeks have taken a severe emotional toll on all of us, Jason especially, and that toll manifested itself in an unfortunate incident yesterday."
Russell's 30-minute
Kony 2012
documentary about Ugandan guerrilla leader Joseph Kony became an unprecedented Internet sensation, receiving more than 80 million viewers since its release earlier this month. But the film has also kicked up a backlash of
criticism against the group
. Russell has defended his film from some who have charged it oversimplifies facts about the more than 2-decade-old Central African conflict.