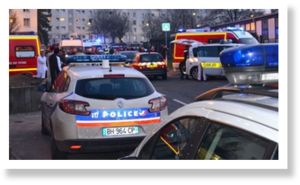 At least one person has been killed and another seriously wounded during an attack by an assailant on the worshippers in a mosque in France's northern town of Arras.
The police said that the incident took place on Friday evening when a man attacked the worshippers with a baseball bat. The man was arrested later.
"The first indications I have is that it is the act of a person who had a psychiatric history," French Interior Minister Claude Gueant told AFP, condemning the attack as an act of "incredible brutality".
No further details have thus far been provided by the authorities.
The attack in France comes days after the imam of a mosque in the Belgian capital Brussels was killed in an arson attack on the house of worship.
Police officials said the 47-year-old imam died of smoke inhalation on March 12 after a firebomb was thrown into the mosque.