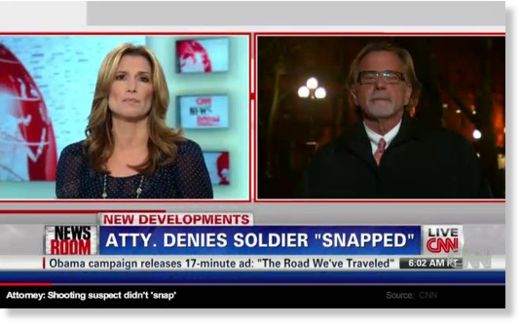 The man identified Friday by sources as the U.S. soldier accused of killing 16 Afghan civilians betrayed no animosity toward civilians in a different war zone, according to an account posted on the U.S. Army's website that describes a firefight in Iraq in January 2007.
"I've never been more proud to be a part of this unit than that day, for the simple fact that we discriminated between the bad guys and the noncombatants and then afterward we ended up helping the people that three or four hours before were trying to kill us," says Staff Sgt. Robert Bales, who was then a team leader in 1st Platoon, C Company. "I think that's the real difference between being an American as opposed to being a bad guy, someone who puts his family in harm's way like that."
In the February 2009 article, Bales was described as a participant in an attempt by the 2nd Battalion, 3rd Infantry Regiment to recover a helicopter that had been shot down in Iraq, killing both pilots.
The ensuing battle -- which succeeded -- left 250 Iraqis dead, 81 wounded and 410 detained; none of the 2-3 Infantry's soldiers was hurt or killed, the article says.
A number of the Iraqi casualties were civilians, and the battle's clearing operation turned into a humanitarian one, the article adds, again quoting Bales: "We'd go in, find some people that we could help, because there were a bunch of dead people we couldn't, throw them on a litter and bring them out to the casualty collection point," he is quoted as saying.
Bales, who is in his late 30s, was flown Friday to a prison in Fort Leavenworth, Kansas. He has not been identified officially, but a senior military official and a defense source both identified him to CNN. The military's policy is not to identify suspects until they have been charged.
He is accused in a weekend shooting spree in two villages in Afghanistan in which nine children, three women and four men were killed.
The circumstances regarding the incident remain unclear.
The military is investigating whether alcohol may have been a factor, senior military officials said. One of the officials said alcohol was found on the base in the area where the suspect lived. It was not clear whether the alcohol belonged to the soldier; a toxicology screening was conducted but the results have not been returned, the official said.
Prior to his deployment to Afghanistan, the soldier had lost part of a foot in Iraq and suffered a traumatic brain injury, according to his lawyer, John Henry Browne. The Seattle attorney said the screening for the concussion was minimal.
The soldier had not wanted to deploy to Afghanistan on what ultimately became his fourth combat tour, Browne said, citing conversations with the soldier's family. Bales had served three times in Iraq.
"He was told that he was not going to be redeployed," Browne said. "The family was counting on him not being redeployed. I think it would be fair to say he and the family were not happy that he was going back."
Browne painted a picture of a decorated, career soldier who joined the military after the 2001 terrorist attacks and had spent his Army life at Joint Base Lewis-McChord near Tacoma, Washington. Browne called him a devoted husband and father to his two young children who never made any derogatory remarks about Muslims or Afghans.
Browne said he was offended by media reports that marital discord may have played a role in the events that unfolded in Kandahar province villages near the small combat outpost where the soldier was stationed. He said those reports were "nonsense."
He also said that, the day before the slayings, another soldier on that base had his leg shot off in front of the suspect.
"That affected the whole base," Browne said.
The soldier is accused of leaving the remote outpost of Camp Belambay on foot early Sunday and heading to neighboring villages in the Panjwai district of Kandahar province, where he allegedly carried out the rampage.