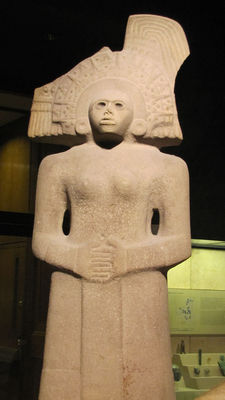 To cell phone-toting, internet-obsessed citizens of the modern world, ancient cultures may seem difficult to relate to. But a new look at Maya art and artifacts shows one of the most advanced ancient societies allowed women much more contemporary power than previously believed.
"I think the popular belief is that they were restricted to the private household," said Shankari Patel, an anthropology graduate student at the University of California-Riverside. "The popular belief would be that women stay at home, they didn't really participate in the rituals that were very important in Maya society.
The previous research I looked at left out women completely
."
Patel studied artifacts at the British Museum that were brought to the U.K. from Cozumel, Mexico in the 1800s. She found spindle whorls, which were used by Maya women to weave cloth, and she thought it was curious that something apparently meant for private use was so elaborately decorated. With further research she was able to conclude that the spindle whorls were used in public Maya rituals as a symbol of feminine identity.
"Patriarchy in the past is very different," she said. "Women controlled their own reproductive rights. They had women healers and women midwifes."
Patel said that
because many of the Maya sites were excavated by men, many of their questions about the ancient civilization weren't related to women.
She looked at iconography on art and pottery that showed evidence of female rulers and deities and read historical documents written by the Mayas that detailed their way of life.
The Spanish expedition in the 1500s led by Hernán Cortés saw the destruction of the Maya way of life and the collapse of its society, which developed from about 250 A.D.
"The first person [the Spanish] met was a woman," Patel said, "The first thing they thought was, 'What kind of a person would leave a woman to make first contact?' They refused to talk with her, so a man had to come and deal with them."
Thomas Patterson, a professor of anthropology at UC-Riverside and Patel's dissertation advisor, said part of the reason women's role in Maya culture has been lost for so long is that archaeologists have been too focused on the bigger sites. Now that that's changing, researchers are learning more.
"These sites were all viewed as being built by men, viewed by men, and female deities were just weird," Patterson said. "We didn't know what to do with those. I think it gives us a much more textured understanding of the role of women in Maya society."
Cynthia Robin, a professor of anthropology at Northwestern University, called Patel's research a "very significant finding" and stressed the importance of looking at history to inform the present.
"One of the things we know about Maya society is before the Spanish conquest there was no glass ceiling for women as there appears to be in our own society," she said.
Robin said that in Maya culture, women were heads of state as well as war lords.
"One of the great things about archaeological research is that it can show us how different life was in the past and how it is in the future," she said. "So if we assume that gender relations were always the same then we're just kind of justifying the inequalities that exist today."